An Interview with.... Police Dog Bear
Each week, we publish a blog on our force intranet site profiling a different officer or member of police staff.
Police Dog Bear was in the 'Meet a Colleague' spot this week, and with hits to the page going through the roof, we're sharing his interview with you here on our website.
Send your comments to PD Bear via Twitter - @PDBear1234, where you can also follow the rest of the Dog Unit, @ASPoliceDogs.
What do you do?
I am a 4-year-old General Purpose Police Dog. I am a German Shepherd and was born in Holland. I came over on a boat with my mate Scooter (who is also an A&S police dog) when we were both 1. I then stayed at Bower Ashton for a few nights before being taken home by my new Dad, where I have lived ever since.
Describe your typical day/shift
It all depends really. I wake up when it's light and then have to wait really quietly until the back door opens. That means Dad is awake and I can start spinning around in my kennel. I always go for short lead walk and then come back for my breakfast. Sometimes I go to work, sometimes I go for training, and sometimes I just go for a few long walks.
What's the best bit of your job?
I always get to go to work with Dad and I have my own kennel at home to do what I like. I mainly enjoy lying around and barking at birds and cats.
And the worst?
Nights and not always getting to eat on time. I get really tired on nights, but on rest days I am full of beans. Dad isn't always as energetic.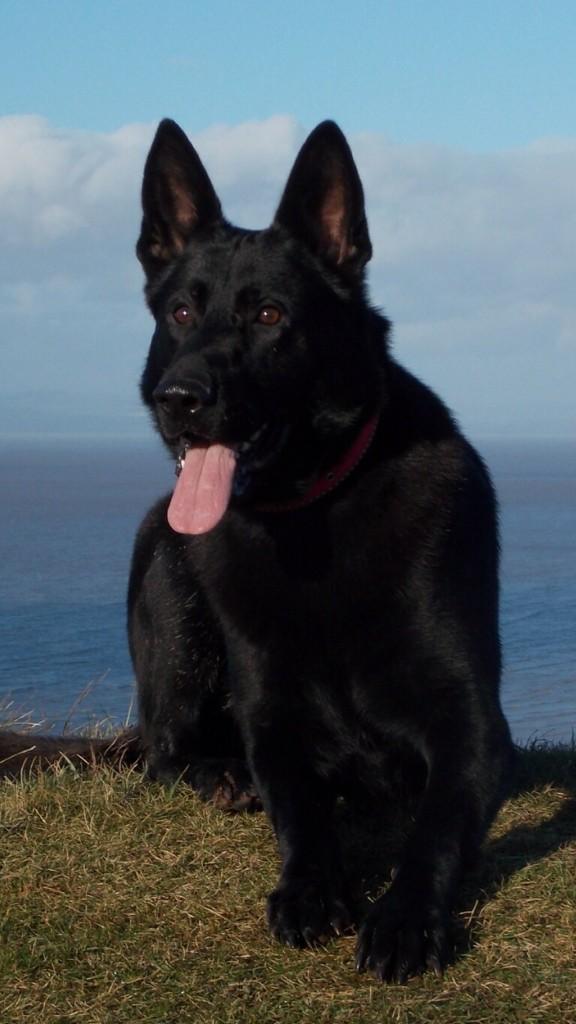 How would your colleagues describe you in three words
"Not naturally very bright", but "hard working" and "extremely handsome".
 What's been your career highlight so far?
On New Years Day dad told me to bite a man carrying an axe in a park. I was a bit scared but I did it and Dad joined me, took the axe off the man and then got really excited with me. He put on this really silly voice and gave me my ball. He's a bit weird sometimes.
 If you had a super power – what would it be?
To never age and to stay with Dad forever.
What keeps you sane?
I really like watching birds from my kennel and like to bark at the window cleaner. I also enjoy family walks with my two dog brothers, who live at home and sleep on expensive sofas (as soon as Dad goes to bed). I also enjoy seeing people approach the back of the police car, I lay there quietly and then suddenly bark. I love seeing them jump..
Tell us your most embarrassing moment at work?
I was searching for a bad person in a garden once and there was a pond. Well, I didn't know it at the time as it looked like grass. I ran over to it and Dad shouted to me, but it was too late, I was in it. It was deep and smelly. But I was fine once I got back in the car and shook it all off. It stuck to the walls, but I didn't care much.
What's your favourite treat?
I love the bones, treats and bits of roast dinners that Mum feeds me on the quiet. Dad doesn't always know about it though.
Who would you invite to your dream dinner party?
Lots of cats, rabbits, roe deer, some squirrels, perhaps even a pheasant or two "it would be quite a feast".
If you could only play with one toy for the rest of your life – what would it be?
Balls, balls, balls. No I mean it, Balls.
If you could swap lives with someone for the day, who would it be?
Any of the cast of the musical "Cats." I've always fancied going under cover.
Tell us a secret.
I can always hear Dad and I almost always understand, sometimes I just choose to ignore.
As a pup, what did you want to be when you grew up?
I always wanted to be a Police Dog, it's almost as if I was bred for it!
If there was a film produced about your life, who would play you and why?
There aren't too many decent 4-year-old actors around who would be up to the part, the long hours or capable of the stunts and training, so I don't know really.
What's your guilty pleasure?
Chewing my kennel, kicking straw all over the patio and jumping on the trampoline.
If you could learn to do anything, what would it be?
Complete Dads Chronicle returns at the end of each shift on the computer.
You've just become ruler of the universe - what are the first three things you'd do?
Get my ASBO removed
Let cats into my bachelor pad
Secure the long term future of Police Dogs in years to come