Be aware and seek help: sexual abuse in children and young people
Last year 15% of female rape victims were aged 16 and under which equates to more than 3 rapes each week in our force area.
We are fortunate to live in a time when our young people have the world at their fingertips, thanks to mobile technology and the internet. This digital age offers huge positive potential, but unfortunately it can lead to new challenges to keep young people safe.
The good news is there are a range of helpful resources available to parents to help young people stay safe.
Talking to children
The NSPCC's 'Pants' campaign is a great place to start a conversation about children's bodies belonging to them. Alongside useful information, there's a video, quiz and handy guides for parents and children.
If your children, or children you know, are on Snapchat, ask them to follow us, we're 'aspolice'. We will be running different campaigns specifically aimed at young people.
Signs to look out for
Unusual behaviour in a child might be a sign that something isn't right.  The NSPCC has suggested some characteristics to look out for;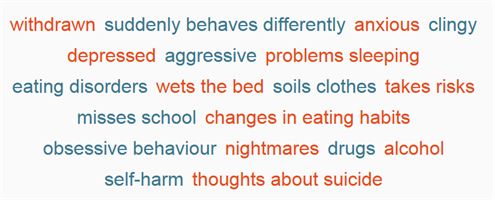 If you are worried about a child or need some advice please contact the trained counsellors at the NSPCC at help@nspcc.org.uk or 0808 800 5000

Staying safe online
The increase in technology including social media and friendship apps means it is a good idea to have a chat with your child about staying safe online and agree what's ok and what's not.
It can be hard to keep up to date with the new apps like the friendship app Yellow which are aimed at young people. The NSPCC 'netaware' information helps make sense of new apps and networking sites.

Places you can go for help

If a crime has been committed, we would like you to report it. We will always listen and believe you. However, we know that it's not always easy to speak us. If you can't talk to us, please talk to someone.
Here are some people who can help:
NSPCC can help if you are worried about a child or need some advice.
<50px>0808 800 5000 or help@nspcc.org.uk50px>
The Bridge offer medical, emotional and practical support to anyone who has been raped or sexually assaulted.
0117 342 6999 (24/7, 356 days a year) or  www.thebridgecanhelp.org.uk

SARSAS – Somerset & Avon rape and sexual abuse support- provide information and support to all victims of rape and sexual abuse.
0808 801 0456 – women and girls helpline. Open Mondays & Fridays 11am – 2pm, Tuesdays, Wednesdays & Thursdays 6pm – 8.30pm.
0808 801 0464. Men and boys helpline. Open Monday 11am – 2pm and Tuesday 6pm – 8.30pm.

The Green House Bristol offer a specialist, free counselling and psychotherapy service to men, women and children who have experienced the trauma of sexual abuse or rape at any time in their life.
0117 935 1707

Contacting us
If you feel able to report a crime to us, please call us on 101. However, if contacting us online is the safest way for you to get in touch, you can complete a secure online reporting form.