Chief Constable and PCC support Bristol Street Triage Scheme
On 4 February we supported Time to Talk Day - part of the national campaign, Time to Change, run by the charities Mind and Rethink Mental Illness - aimed at reducing stigma and encouraging more people to talk freely about mental health.
As part of the event Chief Constable Andy Marsh and PCC Sue Mountstevens met members of the Bristol street triage scheme which has been running from The Bridewell police station since September and sees mental health professionals attend police incidents involving someone with a mental health problem.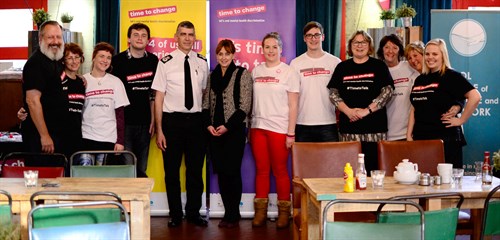 The triage team are able to access medical records and recommend what action is taken with the aim of avoiding people being detained unnecessarily under Section 136 of the Mental Health Act.
Sue Mountstevens said: "The Bristol street triage scheme team are providing invaluable support in identifying and supporting people with a learning disability, personality disorder, substance misuse or mental health issues, at the first point of contact.  It's clear that working alongside trained mental health professionals is not only making a difference to officers but most importantly to those individuals in need."
Assistant Chief Constable and Avon and Somerset's mental health lead Nikki Watson said: "Mental health issues are surprisingly common. Reducing stigma and encouraging people to talk more openly about mental health is the best way to begin helping and supporting those affected by it."
Avon and Somerset Police want to encourage you to start conversations to end the misconceptions around mental health.  This can be as simple as asking someone how they are feeling that day, or telling people about Time to Talk and Mind.