Have you heard about Restorative Justice?
Raising awareness of restorative justice (RJ) plays a vital role in Avon and Somerset Police and Crime Commissioner (PCC) Sue Mountstevens' vision of supporting victims to find their voice within the criminal justice service.
This week (20-27 November) marks International Restorative Justice Week and will see Avon and Somerset's Restorative Justice Coordinators out and about in our local communities telling people about restorative justice.
Throughout the week, the coordinators will be supporting University of the West of England (UWE) students with their efforts to raise awareness of RJ, hosting briefing sessions with partners, as well as speaking to residents and finding out if they have heard about restorative justice.
PCC Sue Mountstevens said: "In my first term I had a clear ambition to put victims at the heart of everything we do, as well as making sure the voice of the victim is heard in the criminal justice service.  We know awareness of RJ is low and we still have a long way to go but I am encouraged that we are moving in the right direction.
"Now in my second term as PCC, I have broadened my priorities in order to take a more holistic approach to preventing crime, enforcing the law and supporting victims.  We know RJ has a positive impact on victims, with 85% feeling satisfied after taking part and it reduces reoffending, so I'm keen to see an increase in its take up."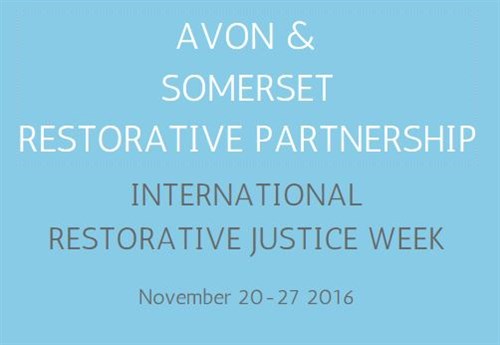 Restorative justice is the process of bringing victims and offenders together, where appropriate, to tell one another their account of an incident, which not only aims to help put the victim back in control but also presents the offender with the consequences of their actions.
In Avon and Somerset, restorative justice is available to all victims of crime and can be arranged by one of the RJ coordinators, who are located in the three Lighthouse integrated witness and victim care hubs in the Bridewell, Keynsham and Bridgwater.
Stephanie Todd, Restorative Justice Coordinator at Avon and Somerset Police, said: "Restorative Justice Week is a fantastic opportunity to showcase the restorative work that we do. We believe all victims have the right to know about restorative justice and how to access the service. We offer victims of crime and anti-social behaviour the opportunity to communicate with their offender in a safe and controlled environment to discuss what happened, the impact and how to move forward positively."
You can catch the team during the day at any of the following locations:
Monday,      November 21 - University of West of England and Weston Town Hall
Tuesday,      November 22 - Citizen Service Point Temple Street Bristol, Bath and      Morrison's in Taunton
Wednesday,      November 23 - Sainsbury's Emerson's Green and Yeovil Bandstand Town Centre
Thursday,      November 24 - Minehead Customer Contact Centre and Angel Place Shopping      Centre, Bridgwater
Friday,      November 25 - 'Cop Shop' Galleries Shopping Centre Bristol, Cribbs      Causeway Shopping Centre and Clark's Village in Somerset
During the week the RJ coordinators will also be hosting sessions with different departments within the Constabulary as well as with probation and other partners.  You can also keep up-to-date with activity by following @RJCoordinators on Twitter.
Stephanie added: "This year we are embracing Restorative Justice Week by engaging with the citizens of Avon and Somerset to raise awareness of this service. We look forward to speaking to as many people as possible and raising interest and discussion around restorative justice."
Following a recent poll by the Restorative Justice Council which found that 80% of the public believing they should have the right to communicate with their offender, the coordinators are also asking people locally for their awareness of RJ.
Since 1st April 2015, across Avon and Somerset, over 200 victims have communicated with their offender, 62% of which were face-to-face conferences and since the end of 2015 there has been a 5% increase in restorative interventions.  
CASE STUDY
Earlier this year, a UWE staff member arrived at work to find a glass door in the building completely smashed. Upon reviewing CCTV, two males were seen to deliberately line up bottles and one of them kick the bottles towards the door which caused it to shatter. This resulted in £1051.75 worth of damage.
The male who directly caused the damage was identified to be living on campus, he was spoken to by the onsite Officer and he admitted the offence straight away. He admitted to being intoxicated and was sorry for his actions; he suggested he had no reason for doing it other than acting up with his friend.
The student was initially banned from the Student Union and wished for the opportunity to repair the harm caused by his actions, the Officer suggested the option of utilising Restorative Justice to achieve this. The student was willing and a representative from UWE security was open to the process.
UWE RJ facilitators met with parties separately initially to explain the process and ensure it was appropriate to go ahead with face to face communication. Both parties were on board and both with similar hopes as to the outcome of the process.
The meeting went ahead and positive outcomes were achieved; the student was extremely apologetic, the UWE representative explained what might seem like a minor offence, the effects it can have to the University and the resources it took up.
The student and UWE representative came up with a way for him to repay some of the repair costs. In addition the Student Union granted the student back to campus due to his positive engagement and willingness to put things right through RJ.

To find out more about how restorative justice could help you please visit the Lighthouse website – www.lighthousevictimcare.org or you can email the RJ coordinators at restorativejustice@avonandsomerset.police.uk.