LGBT Hate Crime - Don't accept it, report it
As part of our Hate Crime Awareness campaign this week we are focusing on sexuality and gender hate crime and why it is so important you report it.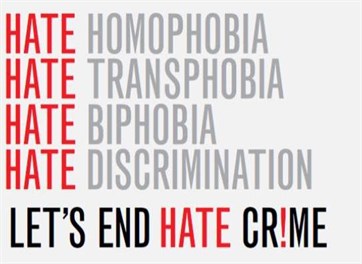 Don't accept it
"I think you face it on a daily basis sometimes and you just become kind of numb to it, don't you?"
A hate crime is any criminal offence which is perceived by the victim or any other person, to be motivated by a hostility or prejudice based on a person's actual or perceived: race, religion, sexual orientation, disability or transgender identity.
Hate crime can include verbal abuse, online abuse, harassment or violence from strangers, neighbours, or people you know well.
If you are unsure what is a homophobic, biphobic or transphobic hate crime Galop have produced a guide that explains how the law can protect LGBT people from different forms of abuse.
Report it
We take hate crimes really seriously and ask anyone with information about a hate crime to report it to us, or if you don't want to contact us directly to use a third party reporting centre like true vision.
"I think the more ways that people can report hate crime the better, because people like to communicate in different ways. Maybe some people like to pick up the telephone, some people like to do it online. So I think, yeah, it just captures more people."
It is really important to report a hate crime. Improved recording of these crimes will enable a better understanding and help identify and improve services for victims in communities where hate crimes are evident.
If you are still unsure about reporting a hate crime, then this guide may help. It explains what you should expect when you make a report to the police and what the process may involve. 
You don't have to be a victim to report a hate crime
If you witnessed a hate crime would you know what to do?  This animated video, produced by the University of Leicester demonstrates the impact turning a blind eye can have on a victim of hate crime. Would you have offered the victim help or would you have kept walking? 
Will White, Hate Crime Lead for Avon and Somerset police says:
"The four victims in this film found themselves in situations which could have been made better by members of the public stepping in to help or report these incidents. We want to encourage people to recognise a hate crime and understand how to report it."
How to report a hate crime
You can report a hate crime either by calling 999 in an emergency or 101 in a non-emergency or in person at a police station. If you feel you can speak to us, we would prefer to speak to you on the phone or in person, however if contacting us online is the safest way for you to get in touch, you can complete our online reporting form
If you don't want to contact us directly please use an independent agency like Crimestoppers and LGBT Bristol or report it online at www.report-it.org.uk
To speak to the Avon and Somerset Police liaison team, contact 101 and ask to speak to a member of the LGBT liaison team. Or you follow them on Twitter @ASPoliceLGBT or on Facebook at ASPolice LGBT