Make a friend and help someone in need
Social isolation is as damaging to our health as smoking 15 cigarettes a day (*Holt-Lunstad) and you can do something to help this by sparing only 1 hour a week.
More than half of volunteers do so because someone they know already volunteered. For this reason we are sharing the heart-warming story of Anna and Margaret to encourage you to consider how you could make a difference in 2017.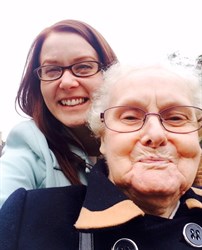 Meet Anna, she works for the Avon and Somerset Police and Crime Commissioner, and in her spare time volunteers with the LinkAge befriending scheme: "I'm a huge advocate of volunteering, and have been a volunteer manager for almost 8 years. I firmly believe that no-one is too busy to spare the odd hour, and that odd hour can make a vast difference to someone's life and you can't put a price on that. I'd always been interested in befriending, but when my Grandad's health and independence deteriorated it really opened my eyes to how older people live, and how many are isolated and incredibly lonely. My Grandad lives over 100 miles away and thankfully has a supportive family around him.
I wanted to support someone in a similar situation but without the luxury of a close family support network so I got in touch with LinkAge (St Monica Trust branch).
"I went to the Age UK website which was very easy to navigate, there's a dedicated section for Befriending so I followed the link and registered my interest. Someone from LinkAge quickly got in touch to say there weren't any immediate vacancies and asked if I'd be happy to wait, which I was. I think I waited over a year, as part of the problem is that some people are so isolated, it's hard for organisations like LinkAge to even get to them to offer support. It seemed crazy to me that there were a surplus of willing befrienders when there are so many isolated elderly people.
As I work full time, I also needed someone who would be happy with me alternating the days and times I visited.
"At the time I was matched, I wasn't driving so I needed to be matched with someone fairly local. St Monica's Trust were very good at understanding my requirements and I was matched with Margaret. I was told she was extremely isolated and that they were surprised she agreed to have someone visit her, and they talked at length about the kind of mental health problems she suffers from. I was slightly nervous as I'd never done anything like it before, and despite being a real people-person, I wasn't sure how I'd be received. The St Monica's Trust befriending manager who matched me came with me on my first visit and introduced us, it felt a little awkward but I instantly warmed to Margaret and her cheeky smile! I was surprised at how spotless her flat was, I wasn't sure what I was expecting but for someone who isn't very mobile, her flat is pristine!
It took probably the best part of 18 months to break down some of the barriers Margaret had clearly put up to protect herself over the years.
Over time, she opened up about the long stints she'd had in different mental facilities from the age of 18 – 35, she also talked about how the only man she ever loved jilted her at the altar and how she doesn't speak to her only living relative, her sister. On a few occasions over the years, I've sadly had to witness a dip in her mental health. Margaret relies on a cocktail of medication to keep her illness stable, and she sometimes lets this lapse with upsetting consequences. She has also had a hip replacement and a knee operation in the time I've been visiting her, all while I wasn't driving and so I've spent many hours travelling on foot and by public transport from my house in Totterdown, to hers in Bedminster and then up to Southmead Hospital on the bus to give her clean clothes. Not nice in the middle of winter!
I didn't become a befriender to gain anything, it was a completely selfless interest that got me involved, however I have gained so much.
Margaret is incredibly important to me, I see her for a couple of hours every week which is a lot more than I see most of my friends, and certainly my family as they live in Cornwall. We have become extremely close, and share a lot with each other. I really love how much she trusts me; she has come from a place of total isolation and allowed someone to come into her home and get to know her in a way that I'm not sure anyone has in her entire life. I have a key to her house and I know her pin code to her bank card, I feel honoured that someone has put that amount of trust in me. She's funny, intelligent, kind and stubborn but I like that about her! Seeing her is always a highlight of my week, even if we just sit together and watch tv. I always walk away from her house smiling, although I always wish I could do more.
It's not been easy and that's one thing I'd say to anyone that's interested, often these people have had or are experiencing a difficult life and it can be hard to be part of that. Having boundaries is also hard, particularly the more you get to know someone but befriending is incredibly, incredibly rewarding. Seeing a once completely housebound, isolated lady happily singing along at the top of her voice to Radio 2 in my car as I drop her back from a trip to the shops keeps me smiling until I see her again the following week"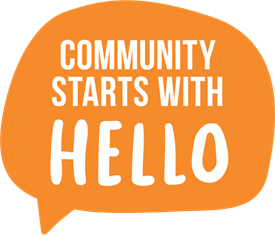 Anna was paired with Margaret, who said: "I'd be lost without her. Anna was found for me by the organisation 5-6 years ago. It has made such a big difference to me. She takes me shopping or just has a cup of tea and a chat. She even took me to Weston to see the beach.
"If there were people feeling lonely and unsure about asking for something like this, I would say to them "Go ahead and do it, it has made a big difference to me. Anna is my friend"
Karen at St Monica Trust said: "As we get older, despite our best efforts, many of us end up spending more time on our own than we would like to.
Volunteering, offering an hour a week of your time to a vulnerable lonely, isolated older person is very rewarding on both parts. For the older person it provides stimulating conversation and something to for them to look forward too. For volunteers it provides them with time away from their otherwise stressful lives and a sense of reward, knowing they are making a big difference to the wellbeing and quality of our older people's lives."
For more information about the befriending service please contact LinkAge, or contact a local charity for volunteering opportunities.