Meet a PCSO
PCSO's have been a valuable part of the policing community since 2012, but what is the process of becoming of PCSO and what skills do you need?
We talk to four PCSOs based in Bristol about their role and their likes and dislikes: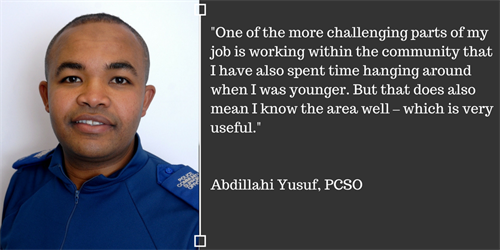 Abdillahi has been a PCSO since 2011.  He is based at Trinty Road Police Station:
"I became a PCSO because I wanted to make a positive contribution in my local community and also find ways to help others.
"The recruitment process was very straightforward, and I found the support from Avon and Somerset Police during the process really helpful – although the interview was quite challenging!
"The training was fantastic, with lots of different things to learn. 
"I enjoy my job and find it very satisfying to be able to offer reassurance to vulnerable people, and help to reduce people's fear of crime."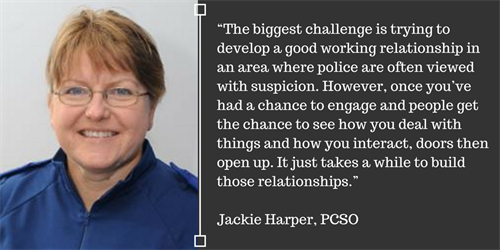 Jackie has been a PCSO in St. Pauls, Bristol for nine years:
"I became a PCSO because I am a people person, I like people and wanted a new challenge. I wanted to make a difference in the community.
"As a more mature student, I hadn't done interviews for a long time so initially I found the recruitment process a bit daunting. My experience was that the interview was more scenario based rather than facts and figures based like I was used to. It's more about common sense, life experiences and what you would do if you found yourself in certain situations.
"I enjoy working in a community which is keen to move away from historical stereotypes.  I enjoy working with community groups and schools in an attempt to identify and deter antisocial behaviour, as well as problem solving (which can be challenging) and engaging with young people to break down barriers and encourage more cohesive engagement."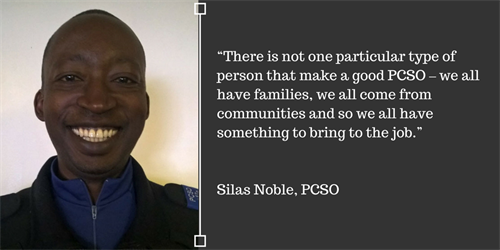 Silas Noble has been a PCSO for the past four years. He is based at Trinity Police Station:
"I became a PCSO because I wanted the opportunity to work with different people within communities. I also really enjoy solving problems. Being a PCSO gives me the chance to work with my colleagues and other partners to come up with solutions for people in our community who need support.
"The recruitment process was very straight forward, although it is very thorough so it can take a long time to get from your first application to actually beginning your training.
"The recruitment team was very supportive and happy to talk me through any part of the application process that I was unsure about so that made me feel a lot more confident.
"PCSO training was brilliant, we had a very supportive trainer, and we all encouraged each other. We learnt what we can and can't do as PCSOs and how to handle different, and difficult, situations.  
"I really enjoy my job and am extremely proud of what we achieve.  I enjoy supporting some of the most vulnerable people in our local communities. We also play an important role in identifying and helping to prevent crime.
"The role is really appreciated across the force and senior teams are very supportive of the work we do and the contribution we make.
"I am really proud of the job that I do."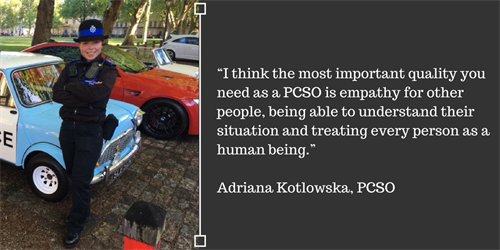 Adriana has been a PCSO for 9 years.  She spent 8 years working in Easton and more recently has moved to Bridewell Police Station in the city centre.
"Joining the police has been a dream of mine since I was a little girl.  So when I came to the UK from Poland I was happy to hear that Avon and Somerset Police needed Polish officers to join the force. The recruitment process was quite long, but there was a lot of support available that made it easier to complete. 
"I've always wanted to help people and enjoy getting to know the individuals and communities where I work.  It's also very satisfying to be able to put people in touch with organisations and groups that can support them - for example helping homeless people find accommodation or letting them know where they can have a meal.
"The best part of the job is being part of the local community, building people's trust and finding ways of helping people in need.  The feeling when you see how people's lives have turned around is amazing.
"Of course there are challenges, not everyone agrees with what we do or how we do it. And people have different expectations of how we should be spending our time.   But learning to deal with that is part of the job. And you always have the support of the rest of your team which really helps." 
If you would like to find out more about being a PCSO you can re-watch our Facebook Live here or if you would like to read more and apply, click here. Recruitment closes on 8th June at 17:00.