Reporting Domestic Abuse: We are with you every step of the way

Domestic abuse is something we deal with every day.  Each year there are over 1 million calls to police in England and Wales about domestic abuse and last year domestic abuse related crime accounted for nearly 13% of all crimes in Avon and Somerset.
More people than ever are breaking the silence and coming forward to get help but we know there are many people who are living in abusive relationships that will never report it or get the support they need.
On average victims experience 50 incidents of abuse before getting effective help, and high-risk victims live with domestic abuse for 2.3 years and medium risk victims for 3 years before finally escaping their abusers.*
That's too many, and too long. Our aim is to make sure that anyone suffering domestic abuse feels able to come forward and ask for help sooner rather than later. You don't have to tell us, just tell someone. We want people to be safe and there are many specialist and confidential groups and support organisations out there that can offer support and help.
So this week we are launching a new campaign: 'With you every step of the way' which will highlight the many people and organisations that are ready and waiting to help anyone who needs support.
We hope that by offering an insight into the role these people play in supporting those living with domestic abuse we will help de-mystify the process and encourage more people to come forward.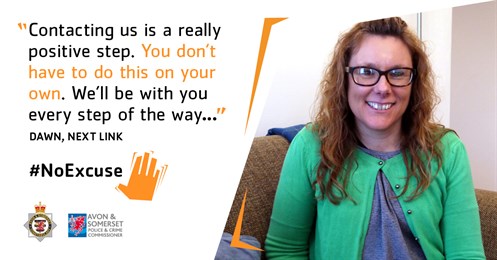 There can be many reasons why people don't ask for help. They may be  unsure   about what will happen or worried that it will make the abuse worse or they may lose their children or their home.  
Some may not even be aware that they are being abused - people who are in emotional or financially abusive relationships, or who are being subjected to coercive control may feel that as they are not being physically harmed it doesn't count in the same way.  But it does.
If someone is being abused they may already feel that they have no control over their lives so reporting can feel like handing even more control over to someone else.  There are also lots of myths around what happens when you report domestic abuse so our aim with this campaign is to make it as clear as possible what happens when someone comes forward for help.
Domestic Abuse is "an incident or incidents of controlling, coercive, threatening, degrading and violent behaviour, including sexual violence, by a partner or ex-partner.  It can include coercive control; psychological and emotional abuse; physical abuse; sexual abuse; financial abuse; harassment; stalking; and online or digital abuse."
Tina Robinson, Superintendent, Avon and Somerset Police, and Force lead for Domestic Abuse said: "Unfortunately domestic abuse is something that we are very familiar with. It's happening everywhere and there is no 'typical' picture of a domestic abuse victim. They can be male; female; transgender; elderly; young, middle-aged; earning above or below the national income; they can live in houses, flats, maisonettes, caravans; with or without children.
"No matter who you are, or what form the abuse is taking we know that it is extremely difficult to come forward and talk about what's happening.  We hope that by highlighting the wide range of help available – not just from us but from the many specialist organisations and individuals that support those living with domestic abuse, we can encourage more people to come forward for help.  The message we want people to come away with is that there is help every step of the way."
Some of the organisations and individuals we will be introducing over the next week include Next Link, a domestic abuse support service, Lighthouse, our own victim care service, IDVAs (Individual Domestic Violence Advisors), as well as officers who work within our early interventions team. 
Police and Crime Commissioner Sue Mountstevens said: "Protecting the most vulnerable from harm, which includes tackling domestic abuse, is the top priority in my Police and Crime Plan.  It takes a great amount of courage to find the confidence to tell someone if you're being abused, so sadly, many victims of this awful crime suffer in silence.
"What is important is that when victims of domestic abuse are ready to come forward and seek help, help is available and there is always someone to talk to.  Domestic abuse is an inexcusable form of cruelty and will not be tolerated in Avon and Somerset.  No one deserves to suffer in silence; there are people who can help."
You can find out more about the about the support available at www.thisisnotanexcuse.org