Safe Places: behind the service
We have relaunched an improved Safe Places service, to help people with communication difficulties to stay safe when they are out and about. The main change is the introduction of a dedicated phone line open 24/7, which those who have registered can use when they need help.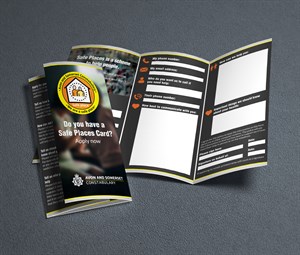 It's open to anyone with a communication need, of any age. Someone can call the Safe Places number if they find themselves in a crisis situation, such as if they are lost, feel scared or upset, and don't know what to do, or if they have been a victim of crime. 
Becky Tipper, Communications Centre Manager said: "South Wales Police have been running a 'Keep Safe' scheme for a few years and the simplicity and effectiveness of it really appealed to us. A call to a dedicated telephone line with a unique reference number ensures call handlers can help quickly and efficiently. The Safe Place member's information is available so that we can quickly and efficiently help them in their time of need."
"Sometimes when a caller is in crisis, they are not thinking logically and, on occasions, it can be difficult to get the information we need to help. Sometimes their needs can be mistaken. If we already have information about someone, it will help us to do what's best for the caller ensuring we can provide them with the best service possible".
"Often callers might just need a carer or relative to help. If we have their details to hand, it's easy for us to make contact whilst reassuring the caller and dealing with the situation."
"This scheme will help many people; it will help give those with a communication need the confidence to go out and about, knowing that if they find themselves in a crisis situation; they can call the Safe Places line where support is on offer 24/7. It also gives reassurance to relatives and carers that their loved ones are ok."
For more information about Safe Places, or to join the service, click here
People you might speak to on the Safe Places phone line
Emily
"When a Safe Places call comes in, we will know straight away as it will come up on our screen. The caller will have a unique reference number so we can see their details, including how they want to be communicated with and who to call if they need help.
"The calls will be answered by call handlers like me, who deal with 999 and 101 non-emergency calls. We are trained to deal with all kinds of calls to ensure we can provide help to anyone who calls us.
"We will be able to help."
"The caller might need support from a police officer or friend or family member. Or, if the caller is involved in a difficult situation we can take them to a place of safety. If we know a caller is going to have particular challenges communicating with us, that will help how we respond and officers will have that knowledge before they arrive.  It means help is only a phone call away and it's the most appropriate help for the Safe Places member."
"We will provide a swift response and hope this service will provide comfort. We will be here to assist if needed, around the clock."
Chris
"Callers on the Safe Places phone line come straight through to us in the control room and if they can provide us with some basic information, we can easily work out where they are and what they need. We are sensitive to the needs of the callers and are used to looking for signs that something might be wrong, for example seeming agitated or panting.
"Any of us might take the call. We are all trained call handlers so we will know what to do. We have three months of training before we take a call on our own and we deal with 999 and 101 non-emergency calls.
"We are here to listen and are available 24/7. There's always someone to talk to. We can quickly get the support needed, whether this involves our officers or not.  We will be able to see if the caller has called us before and how the situation was resolved, which might provide some useful insight.
 "The scheme helps us recognise the needs of the caller from the start rather than spending time trying to find out."
" It helps us understand what's expected of us too, we are here to help and with the information provided will be able to know what individual things reassure the Safe Place member and what to avoid. "
People you might speak to in a Safe Place building
All of our police station enquiry offices are Safe Places, which means the same support is available here. Our enquiry office staff will listen to you and help you.
Jemma
"People that are signed up to the Safe Places service can attend any police station and speak to any of the staff in the enquiry office.
"If a Safe Places ID card is presented, or a few basic details are provided, we will easily be able to identify who the person is and if they have any specific needs, along with their nominated person details.  
"We are trained to notice if people are showing signs of distress or if they require assistance."
"We will quickly be able to identify what the problem is and how best to assist them.  We will be able to offer a safe place to sit down and discuss things privately and will provide reassurance and support.
"If you haven't applied for Safe Places, we can still help.  We will help anyone who comes into our enquiry office who is in need of assistance.  However, prior registration to the scheme will mean that we are able to quickly understand an individual's needs, have access to their nominated person's contact details and therefore be able to assist them quicker."