Staff and officers pledge to help end bullying
It's the end of Anti-Bullying Week, and we've been encouraging our officers and staff to think what we can do to help end bullying.
Here are some of our pledges: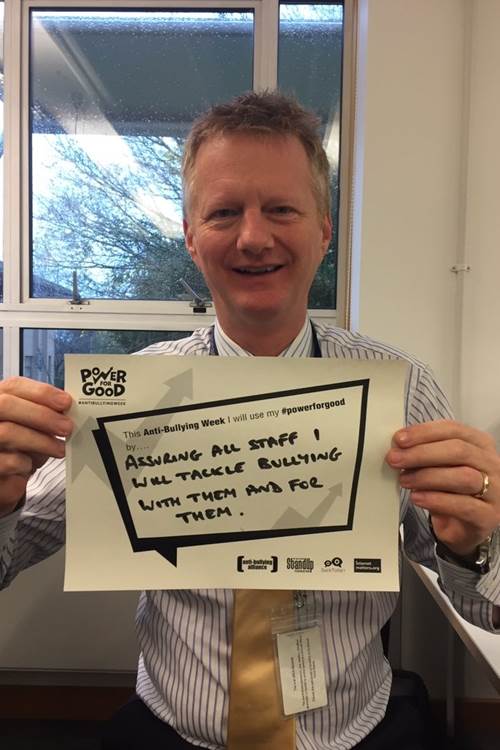 Bullying itself isn't a crime, but some of the things that bullies do, or the ways they try to bully people, are against the law. These can include assault, harassment or threatening behaviour and theft.
According to the NSPCC, more than 16,000 young people are absent from school due to bullying. Over half of lesbian, gay and bisexual young people have experienced homophobic bullying at school.
However bullying isn't restricted to children and young people; it can affect adults too. Bullying UK's National Bullying Survey, found 50% of parents surveyed experienced bullying in adulthood.
It's also increasingly happening online. Cyber-bullying can affect anyone and can be just as bad as being bullied in person. Because it happens on the internet, cyber bullying can be 24 hours a day, 7 days a week, so there is no escape. It is often anonymous so it can feel even scarier.
Bullying is not something that is going to stop overnight, but this Anti-Bullying Week, the Anti-Bullying Alliance is encouraging people to think about how we can work together to end bullying. It has suggested five ways you can use your 'Power For Good':
Further information and advice
If you, or someone you know is affected by bullying, please speak to someone or get some advice. 
Children and Young People
If you need help or advice, take a look at the Anti-Bullying Alliance's guide here. This also contains information about organisations which can support you and your child.
Bullying in the workplace
Bullying UK has some advice about bullying in the workplace and how to deal with it here.
If a crime has been committed, you can also contact us online here.