Supporting "stop adult abuse week" - focus on modern slavery
In our final feature as part of Elder Abuse Awareness week, we are sharing details of support provided by North Somerset to prevent elder abuse.
This week North Somerset have focused on raising awareness of modern slavery to highlight the impact of abuse on vulnerable adults who are unable to protect themselves. There's been a 47% increase in modern slavery in the UK since 2012 and a third of victims are adult men. You may not hear about it very often but modern slavery can take many forms including the trafficking of people, forced labour, servitude and slavery.
Often people with care and support needs, or, who are vulnerable are more likely to be abused, as they may be less able to protect themselves, identify abuse or to report it.
Tony Oliver, Chair of the North Somerset Safeguarding Adults Board, said: "Modern slavery can take the form of sexual exploitation, domestic servitude, forced labour, criminal exploitation and much more. In North Somerset we have been working with organisations including Unchosen to educate staff about the signs of modern slavery and how to report this type of abuse. It's imperative we all join the fight and ensure we stop adult abuse at the earliest opportunity
Our aim is to significantly raise public awareness about this unacceptable treatment of some of our most vulnerable people, to help people to understand some of the signs and symptoms of abuse and to encourage them to report it."
Ahead of the awareness week a new poster explaining what modern slavery is and how it can be reported will be distributed to providers and in public places across North Somerset.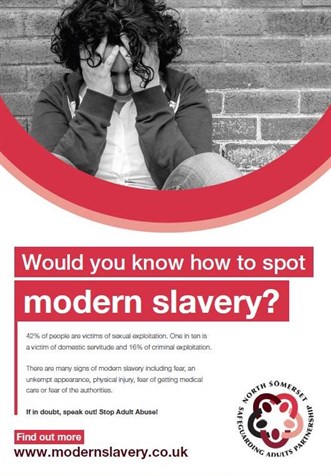 Sheila Smith, North Somerset Council's Director for People and Communities, said: "Modern slavery is not the only form of abuse. Action on Elder Abuse estimates that 500,000 older people are abused in the UK every year as reporting increases thanks to greater public awareness and better reporting procedures being in place."
Signs that someone may be a victim of modern slavery:
Signs of abuse can often be difficult to detect, so it's important to trust your gut instinct. If in doubt, speak out:
Legal documents: Is the person in possession of their legal documents (passport, identification and bank account details) or are these being held by someone else? Victims will often be forced to use false or forged identity documents.
Medical care: Does the person have old or serious untreated injuries? Have they delayed seeing a healthcare professional, and are they vague, reluctant or inconsistent in explaining how the injury occurred?
Appearance: Does the person look malnourished, unkempt, or appear withdrawn? Are they suffering physical injuries? Do they have few personal possessions and often wear the same clothes? What clothes they do wear may not be suitable for their work.
Behaviour: Is the person withdrawn or appear frightened, unable to answer questions directed at them or speak for themselves and/or an accompanying third party speaks for them? If they do speak, are they inconsistent in the information they provide, including basic facts such as the address where they live? Do they appear under the control/influence of others, rarely interact or appear unfamiliar with their neighbourhood or where they work? Many victims will not be able to speak English
Fear of authorities: Is the person afraid of the authorities? Are they scared of removal or what might happen to their families?
Debt bondage: Does the victim perceive themselves to be in debt to someone else or in a situation of dependence?
Context: Victims may often encounter authorities whilst being trafficked from one area to another or if found in a situation that potentially criminalises them, such as a police raid or an immigration raid.
More information
This week we have shared information from the five local authority safeguarding adult boards in Avon and Somerset. To find out about the campaign in your area click the links below: