Take three: hide valuables, shut windows, lock doors
This summer, we are talking burglary and urging you to 'take three'. It only takes a minute to hide valuables, shut windows and lock doors. Don't make it easy for burglars.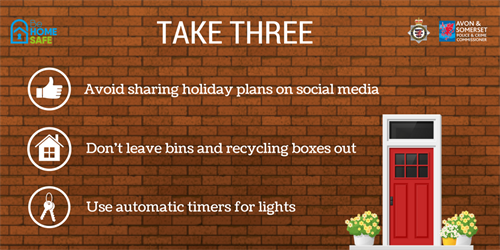 There are approximately 16 dwelling burglaries a day in Avon and Somerset. Half of these occur in Bristol with increasing numbers in other areas like Weston super Mare, Bath and Yeovil.
The average value of stolen property per victim is £531 with jewellery, tablets and wallets/cards accounting for over half of all property stolen in home burglaries. However, alongside the loss of valuables, it's the emotional and psychological impact of a burglary that really affects victims; the hassle of having to cancel and reorder cards, coupled with the feeling of vulnerability and the impact on victims' confidence.
Around one third of burglaries are opportunistic 'walk in burglaries', where the burglar gets in through an unlocked door or open window. These are burglaries we can easily stop. We want you to make it harder for burglars.
We spoke to some passers-by in Weston super Mare and Knowle and asked for their top tips:
Here are some of our top tips for keeping your home safe this summer:
Going on holiday?
1. Use automatic timer-switches to turn your lights and radios on when it goes dark
2. Cancel any newspaper or milk deliveries
3. Ask trusted neighbours to collect your post, open and close curtains and park on your driveway
4. Avoid discussing holiday plans on public social media - burglars can use any information you post
5. Don't leave valuables on display in your windows or near doors – especially those with cat flaps
6.Mark your property with postcode and house number and register your property for free with Immobilise
Are your neighbours safe?         
1. Look out for your neighbours, especially those who may be elderly or vulnerable, by keeping an eye on their property
2. Say hello, sometimes a friendly chat can help neighbours feel less isolated and might help keep them safe
3. Could you be a nominated neighbour? You could help protect elderly and vulnerable neighbours from bogus callers
4. Consider joining or forming a Neighbourhood Watch scheme
Keeping your garden and sheds safe
1. Consider low energy lighting, which comes on at night, ideally up high so a burglar couldn't reach it.
2. Don't leave ladders or tools outside, or chain them up if you have to – they could be used to break into your property.
3. Don't plant tall trees or shrubs around a garden gate; this provides cover for thieves.
4. Think about using Nature's defences: thorny hedges of holly, berberis, hawthorn, pyracantha and blackthorn or  prickly climbing roses could be a good option.
5. Make sure the fences around your garden are in good condition; installing trellis on top of your fence can help alert you to an intruder as it will break on impact.
6. Install a gravel drive; you can hear footsteps a long way off.
7.Ensure side gates are locked to prevent access to the rear of the property. You could put two locks on a side gate.
8. Secure hanging baskets with locking brackets and secure your containers and ornaments.
9. Chain up your bin; thieves often use them to climb over garden gates.
10. Secure bikes at home by locking them to an immoveable object inside a locked shed or garage.
11. Improve natural surveillance at the front of your property e.g. trim high hedges.
Thanks to The Telegraph for some of these tips.