What is disability hate crime?
This week we are focusing on disability hate crime as part of our hate crime awareness campaign. It is often a lower reported form of hate crime but is just as impactful. 
Many disabled people have impairments that are not easily visible and some people do not consider themselves, or want to be identified as being disabled. The Disability Discrimination Act states that a disability is where a person has a physical or mental impairment, which has a substantial and long-term adverse effect on the ability to carry out normal day-to-day activities.
This includes a variety of impairments such as: learning disabilities (including dyslexia); mental health conditions; mobility impairments; blindness and partial sight; deafness and hearing impairment; and progressive long-term health conditions such as Multiple Sclerosis and HIV. It also covers people who may not consider that they have a disability, such as those with long-term conditions (for example, diabetes, cancer or long-term stress/depression).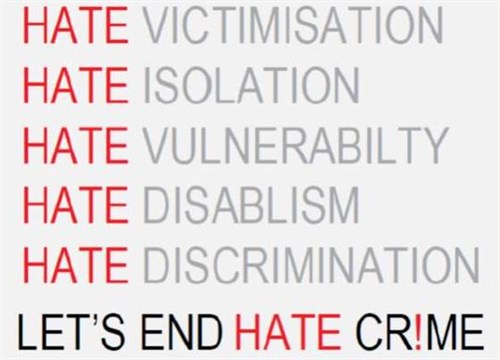 What is a disability hate crime?
A hate crime is any criminal offence that is motivated by a prejudice or hate. This can include anything that focuses on the victim's disability or resentment of disabled people.

Any criminal offence which is perceived, by the victim or any other person, to be motivated by a hostility or prejudice based on a person's actual or perceived disability is a hate crime. This includes a variety of mental and physical impairments including mobility impairments, blindness, learning disabilities and mental health conditions.
Hate crime can take many forms from a continuous campaign of subtle language by a colleague or neighbour to an isolated incident of suggestive harassment from a stranger. In many cases, victims have been suffered from Mate Crime, which is defined as the exploitation, abuse or theft from any vulnerable person by those they consider to be their friends. Those that commit such abuse or theft are often referred to as 'fake friends'.

How to report a hate crime or where to get advice
Anyone with information about a hate crime is asked to report it either by calling 999 in an emergency or 101 in a non-emergency or in person at a police station. If you feel you can speak to us, we would prefer to speak to you on the phone or in person, however if contacting us online is the safest way for you to get in touch, you can complete our online reporting form.
If you don't want to contact us directly please use an independent agency like the Brandon Trust or report it online at www.report-it.org.uk.