Avon and Somerset Police launch Nominated Neighbour scheme
Avon and Somerset Police is marking Stop Adult Abuse Week with the launch of a scheme to protect elderly and vulnerable residents in the region.
The Nominated Neighbour scheme, which has already been used successfully in some areas of the region and is now being rolled out across the Avon and Somerset policing area to help protect elderly and vulnerable residents from bogus callers.
The scheme works by a vulnerable resident identifying a trusted neighbour or friend to act as a 'Nominated Neighbour'. Any 'Unknown Callers' at the vulnerable neighbour's door will be directed to their 'Nominated Neighbour' so that their credentials and identification can be checked and verified.
Once the 'Nominated Neighbour' is happy with the caller's identity they will accompany them to their neighbour's house and stay until they have finalised their business and the caller leaves.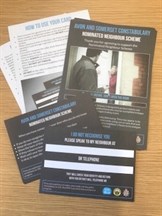 Inspector Julie Knight, Local Policing Directorate, Avon and Somerset Police said: "Older people can be more vulnerable to cons and fraud, doorstep crime, distraction burglary and online/telephone scams. If they have someone they can trust they are more likely to question something, perhaps saving them from a financial con and neighbours can notice if strangers are at their door."
For an information pack on how to nominate or become a nominated neighbour please contact your local neighbourhood policing team or you can download all you need here: