Celebrating Difference
Living with a disability – a Paralympians story
As part of our disability hate crime awareness campaign we have linked with Team GB Paralympian, James Blackwell. The 30 year old currently lives in Longwell Green in Bristol but grew up in Hawkesbury Upton. He has agreed to share his story as part of our #CelebrateNotHate campaign.
He has Cerebral Palsy (left hemiplegic) which affects the whole of the left side of his body and the muscles less flexible and functional abilities are less than his right side. He also broke his neck in a football accident in 2015 but hasn't let either of these affect him and he now represents Team GB in 7-a-side football.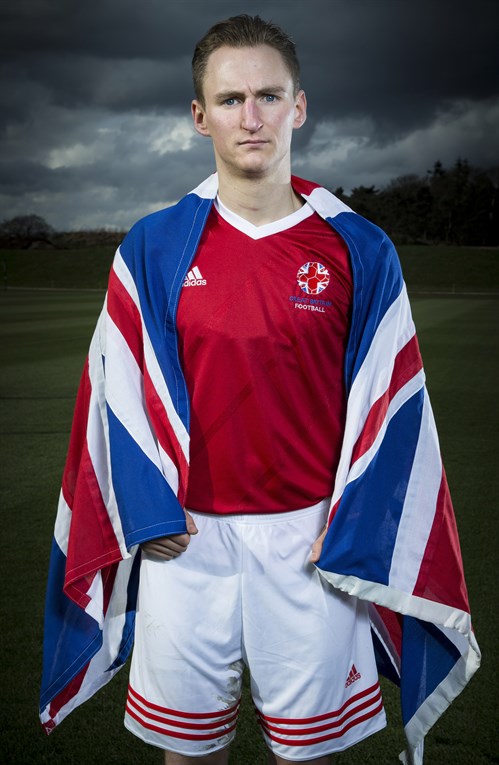 Here he tells his story:
I have always tried to hide my disability where possible as I didn't want people to think any different or treat me any different. From Birth, my family were told I wouldn't ever walk. Fortunately my parents were very supportive and encouraged me to play sports and would do daily exercises with me to give me the best possible opportunity and I became very athletic. Being the quickest runner at school and one of the better footballers and actually represented the South West of England against various professional academies such as Arsenal, Coventry, Cardiff and Sheffield Wednesday.
The opportunity to play football gave me the confidence to tell my wife to be that I had Cerebral Palsy (we had been together 7 years and she never knew).
I now wish I had embraced my disability a bit more. I now tell people what I've been through with my disability and that I can still compete with able bodied people. Everyone has supported me massively since they've found out.
I broke my neck last August which was really scary looking back on it. I got fouled playing football and landed on my neck with someone on top of me. I lost feeling in my arms and legs for about 10-15 minutes (felt like a lifetime when you know you already have a disability and can't use your strong side. The feeling came back but I had really sharp pins and needles, like I was being cut or tattooed down my arms which I thought was a trapped nerve and couldn't touch anything.
I was driven to hospital and luckily for me an on call GP was in A&E who said straight away "I think you've broken your neck" and put me on a flat board and strapped my head and chin to it. I went for an x-ray immediately and I had fractured my spine and had a prolapsed disc. He said that I was very lucky to be alive let alone walking due to the pressure on my spinal cord and didn't know how I walked in.
I think it was scarier for my wife and the rest of my family as I'm a very positive person and always thought I would recover. However, being in a hard collar for 14 weeks without being able to lift anything or do anything strenuous was hard. My son was 12 weeks old at the time and I couldn't hold him or help my wife with anything around the house.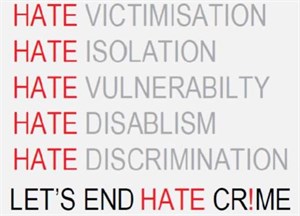 Were you ever a victim due to your disability?
As a child I wasn't allowed to go to the primary school in my village because I had Cerebral Palsy (it was before disability law came in but no tests were done). My parents had to send me to private school even though I was as able as other children and I was actually a better footballer, sprinter etc. I was finally allowed to attend a year or two later.
I had the usual "spastic" comments at school as kids will pick up on anything that is different, especially when I wore a splint to help my left arm. These comments obviously hurt a lot but it only added to my determination to prove that I can do things and often do more than them.
What would your message of encouragement be to other disabled people?
As I said earlier, I wish I had been more open about my disability not only to let people know what I've been through but also the opportunities to play Football for England and now at the Paralympics.
I found out about the disability Football as I played against Ibs Diallo in the County League and knew he played for GB so I thought he's a really good player so the disability football must be to a good standard. I suppose most people's naive view is that disability sport must be to a lower standard and I did to some degree but the football is a lot harder and strenuous than mainstream football. So I would encourage others to be open about their disability and look for the opportunities available to them.
What has your disability meant you have achieved?
I've helped England secure their highest ever position in the 2014 European Championships and the 2015 World Championships which secured GB's spot in Rio. This is a massive achievement as the majority of teams are either fulltime or train a lot more than we do as a squad.
Breaking my neck really hampered my chance of being selected for Rio as I wasn't allowed to train again until the End of February but the training and recovery sessions that I did led to me being selected. I train 6 days a week which is a mix of Strength & Conditioning, runs and football sessions and we meet up once a month for 4 days as England or GB.
Tell us more about your sport?
The game is very similar to mainstream football with a couple of changes, such as it's only 7-a-side, each half lasts 30 mins, there aren't any off-sides and throw-ins can be rolled in if necessary to help those who can't throw overhead. The pitch is 75mx55m which is very big for 7 players to cover. There are also a couple of classification rules where a C5 (most affected - both legs) has to be on the pitch and you are only allowed one C8 (least affected) on the pitch.
I really couldn't wait for the games to start and although we have a very tough group, we have given a very good account of ourselves and could get the highest finish a GB football team has ever had (5th.)
Team GB played their final group match of the Paralympics on Monday, beating Ireland 5-1, including a goal by James. Unfortunately a tough group means they are out of the medal race, but  play for 5th place against Argentina on Wednesday.