Celebrating Volunteers' Week 2015
To mark Volunteers' Week (June 1 to 7) we're running profiles of just some of the many amazing people who give up their time to support policing in Avon and Somerset – for free.
Assistant Chief Constable Sarah Crew, the force lead for volunteers and Special Constables said: "Volunteers' Week provides us with a fantastic opportunity to recognise and celebrate the huge contributions, achievements and dedication of the two thousand and more fellow citizens who volunteer their time, energy and incredibly varied skills working alongside us day in, day out. Their efforts take the British principle of policing by consent and working with our communities to the next level. On behalf of the rest of our team, I would like to offer all our volunteer, cadet and Special Constable colleagues a very well deserved and humble vote of thanks."
Police and Crime Commissioner Sue Mountstevens said: "Volunteers play a vital role in Avon and Somerset, not only in supporting policing in the local community but also in assisting me in my role.  The Independent Residents Panel, Custody Visiting Scheme and Out of Court Disposal Scrutiny Panel, which help me to ensure the police service is open and accountable to the people it serves, would cease to exist without the support of volunteers.
"Of course, there are also the hundreds of Special Constables, volunteer police cadets and police volunteers who selflessly give up their time to supporting the frontline and back office policing effort, to ensure their local communities are safe.  Volunteers week reminds us of the contributions volunteers make not only this week but all year round and is an ideal time to say a big thank you for all their hard work."
Did you know:
Well over 110,000 hours were given up to us by more than 450 Special Constables last year
We have 250 Volunteer Police Cadets at nine units across our area
Volunteers and Special Constables are never paid, but can claim out-of-pocket expenses like travel and parking
We have 329 volunteers fulfilling 40 different roles – and of course thousands of people support us through Neighbourhood Watch and other Watch schemes
A Special Constable has the same uniform and powers as a regular police officer
Our cadets carried out more than 1,000 hours' voluntary work during the floods in Somerset in 2014
The role of Special Constable has been in existence since 1831
Any training our volunteers need to complete their role successfully is provided free of charge
Recruitment for the Special Constabulary is always open
You can become a Volunteer Police Cadet from the age of 14
All these people are helping us to keep their communities safe and it's something we're grateful for. We'd like to thank each and every one of them.
David May – Pub Watch Volunteer – Weston-super-Mare
David has been a volunteer with us for three years.
The pensioner signed up as a volunteer after his wife died.
He explained: "I needed something to fill my time. A friend who volunteers with Avon and Somerset Police invited me to go along with her and it started from there."
After more than two years providing follow-up calls to people suffering from anti-social behaviour he has taken on a new voluntary role of Pub Watch volunteer.
The call-back role came to an end with the introduction of the new Lighthouse service, but David was keen to find another way to help.
He now gives between three and four hours a week to the Pub Watch scheme, which involves being a liaison point between the council, police and licensees.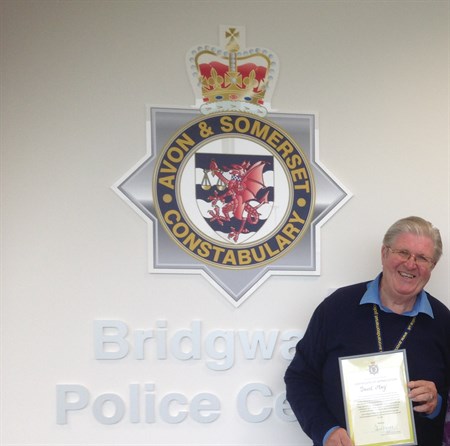 He said: "The amount of time I give is up to me. I go along to Pub Watch meetings every couple of months, but my main role is to make sure the licensees have the information they need when they decide to ban someone. Anyone who is banned by one pub is banned from all the Pub Watch member pubs. They need to be issued with a banning notice which is sent to their home. That's where I come in – I check the police systems, in line with the Data Protection Act, to make sure they have the right details so the right person gets the notice."
David's role involves using computer systems, and while he has had experience with computers he did need some training on the systems.
He said: "If I do have questions there's always someone willing to help. People on the station are supportive, because the more time I spend there, the more time they can be out there doing their front line roles."
David says the best thing about volunteering with us is seeing results:
"I live in the town and anything I can do to make it safer in the evenings is a positive outcome."
He doesn't think there is a worst thing, as he wouldn't do it if he didn't enjoy it!
What do his friends and family think about it?
"Some people are surprised that I do this, and some assume that I'm a retired police officer – I'm not. Some people are surprised that the public, from all walks of life, can help the police. The officers that I talk to find it interesting to hear the public expectation and perception of what they do.
"I would tell anyone thinking about volunteering with the police to find out more and try it, because they're badly needed."
Weston-super-Mare Neighbourhood Sergeant Mark Jenkinson works closely with David May and said: "David carries out a really useful role maintaining the flow of information between local officers and the members of Pub Watch in Weston-super-Mare.
"By offering us his time he frees up officers to focus on their front line policing duties, without losing the important connection with our local licensees who work with us to make sure Weston remains a safe place for a night out."
Are you interested in volunteering in this sort of role? Visit our volunteer recruitment pages for details of vacancies in your area.