Chief Constable meets his canine counterpart
Meet Police Dog Marshy, the newest Avon and Somerset Police recruit. Dog Handler Paul Hilder decided to name the eight-week-old pup after the force's new Chief Constable, Andy Marsh.
The chief said: "Meeting Marshy took me back to the early days of my policing career. He has a long road ahead of him before becoming a fully-fledged Police Dog but if he's successful – and I'm sure he will be - he'll work as a really important member of the Tri-Force firearms team. Our dogs and handlers are an incredible asset to modern policing. They share a very close bond which makes them a real force to be reckoned with. I wish Marshy the very best of luck in his training and look forward to keeping track of his journey."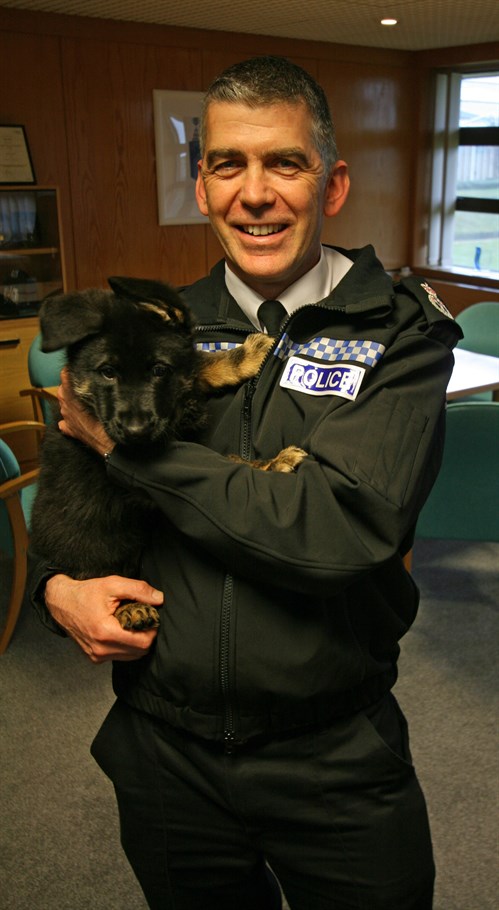 Hander Paul Hilder explains the journey Marshy will em'bark' on...
"Police Dogs (PDs) play a vital role in preventing and detecting crime and protecting vulnerable people. Our dogs are deployed 24/7 across the Tri-Force area – which includes our force, as well as Gloucestershire Police and Wiltshire Police.
"Marshy is embarking on the path to becoming a fully-trained Police Dog, which means he has a very exciting and challenging year ahead. Our puppies are carefully selected from various breeders, based on the working pedigree and the characteristics they display. Police Dogs are chosen for their high working drives and their bright and confident nature. A high play drive is also essential in a trainee Police Dog.
"Having the dog from a young age means we can nurture and shape these characteristics for the role they will perform.  Puppies like Marshy will have their training and development broken down into key blocks. From the moment they leave the litter, until the age of about 15 weeks, we will focus on socialisation, which includes settling them into the new environment, getting them used to travelling in cars, coping with isolation, meeting other dogs and animals… The list goes on.
"We are looking to shape a well-rounded dog that is confident and competent in all of the environments he will find himself visiting. For the next couple of months, we will develop his play drive through ragging games, encouraging barking and playing retrieve.
"Play is a fundamental factor in our dog training, which is all reward-based. An example of this is playing in busy and crowded public places so Marshy is not put-off by crowds when he sees them as an adult working dog. We will also slowly introduce some basic elements of tracking and searching for people. We will introduce marker signals so we can reward the behaviours we want from him.
"As the months go by, we will consolidate the different aspects of the exercises. Through repetition, we should hopefully end up with a dog that will perform the exercises in any location we find ourselves in. By the time Marshy reaches one year old, he should have a full understanding of all aspects of a general purpose Police Dog and can then be licenced to go out on patrol. So watch this space."