Could you spot the signs that might signal adult abuse?
As part of Stop Adult Abuse week we are sharing the campaigns and events of the five local authority safeguarding adult boards in Avon and Somerset. Today we are sharing Bristol's campaign, but first, would you recognise the signs that might signal abuse? Bristol Safeguarding Adults Board has defined 10 signs:
Look out for unexplained bruises and injuries

Be alert to subtle changes in behaviour – take note if is someone very subdued, has lost their self-esteem or changes how they act in the presence of a particular person

If a person begins to isolate themselves and stops seeing friends and family it may be a sign that something is wrong

Any change in appetite and weight loss or gain can be a cause for concern

Unexplained signs of distress, tearfulness or anger may signal a problem

If someone has possessions go missing, an unexplained lack of money or failure to pay bills this may be a sign of financial abuse

Being unclean, unkempt or hungry may signal neglect or self-neglect

Discouraging visits from relatives or friends on a regular basis should raise alarm bell

Missed appointments – failing to show up at GP appointments or regular meetings could be a cause for concern

If someone shows unusual distress at being close to someone, or at receiving personal care, this could be a sign of physical or sexual abuse
Signs of abuse can often be difficult to detect, so it's important to trust your gut instinct. If in doubt, speak out.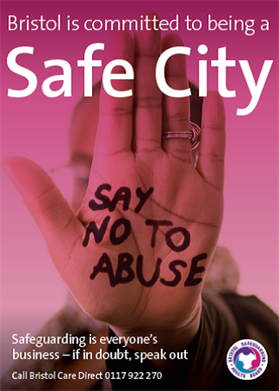 The Bristol Safeguarding Adults Board as part of Stop Adult Abuse Week, have organised for groups from across the city to join together to highlight the issue. 
Louise Lawton, Chair of the Bristol Safeguarding Adults Board, said: "Abuse isn't something that people like to talk about, so we need to work hard to bring the issue into the public consciousness. It can happen anywhere and take many forms, so we've all got a responsibility to be alert to it. Having strong  support networks in place can help people protect themselves against abuse and we can all play a role here – whether it's checking on a neighbour, family member, friend or colleague there are little things anyone  can do."
"As part of this new campaign we want people to understand what 'safeguarding' actually means – and why it is important."

Whether it's financial, emotional, physical or sexual, adult abuse can happen to anyone who's over 18 with care and support needs which mean they can't protect themselves. Modern slavery and discrimination also count as abuse, as well as neglect and self-neglect, which is when an individual is not looked after properly.
Cllr Clare Campion-Smith, Bristol City Council Cabinet Member for the People Directorate, said: "Bristol is committed to being a safe city and abuse will not be tolerated. Services are there to support people if they need it – if in any doubt, please speak out."
To report suspected abuse call Bristol Care Direct on 0117 922 2700. For more information, the new Bristol Safeguarding Adults Board Leaflet can be downloaded here: https://www.bristol.gov.uk/social-care-health/report-suspected-abuse