Day in the life: questions with a PCSO
We're looking for new Police Community Support Officers to join us. Are you enthusiastic and keen to make a difference in your local community?
Maybe some of our current PCSOs can give you some more insight into the role.
Meet Iwona, student, busy mum and PCSO, who loves helping people.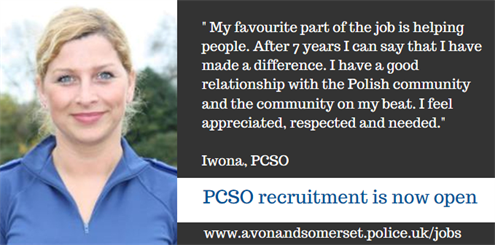 "I was volunteering  at Taunton police station supporting the Hate Crime Officer and when  recruitment for PCSOs opened I decided to apply.  I wanted to work for Avon and Somerset Police and start my career with the Police and I thought that a PCSO position would be perfect for me and give me an opportunity to work with the community and help to build positive relationships and trust between police and minorities group in the Taunton area.
"I never know what is going to happen when I start my shift. A typical day is dealing with the requests for support or help, visiting victims of crimes and vulnerable people on the beat, doing high visibility patrols, visiting schools, talking with people, attending meetings with partner agencies, recording crime investigation and doing a bit admin and dealing with anti-social behaviour. My language skills also allow me to help people to report crime. Every day is different and depend of the needs  on that day and arranged commitments.
"My favourite part of the job is helping people. After 7 years I can say that I have made a difference. I have a good relationship with the Polish community and the community on my beat, I feel appreciated, respected and needed. I like to be part of community events and I organize multicultural events in Taunton every year. I am working with partnership agencies through the One Team and this give me a lot of motivation and satisfaction. I have a great team to work with and in this role you can be very flexible and I run a couple of projects alongside my daily role. I run a diversity group on my beat every Thursday to help support and integrate people in the community and improve their language skills and ensure they know how to access services. This is my little project which I am very proud of and has been very successful.
"My advice is don't be scared! You will build your confidence with time; ask the questions, there are a lot of wonderful people around who will support and help you. I always ask if I'm not sure about something. Be positive and patient and don't be too critical about yourself.. I would like to say that it is the beginning of your journey -   I am glad that I applied for this position 7 years ago, I am very proud of it!"  
 "Outside of the job I spend time with my family and studying. I am currently doing GCSE English at and studying counselling. I am also part of Independent Advisory Group so I do more community work on the side. I am a busy mum with 2 children age 15 and 3. I like travelling and reading books. "
Meet Brogan, a PCSO who enjoys the unpredictability and variety of her role.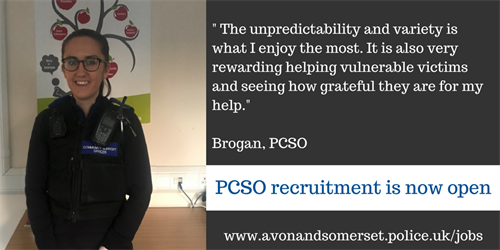 "I was already working for the police when I applied and went through the process.  It was hard but very rewarding when I was notified I had been successful.
" I don't really have a typical day as every day is different. I start off with a morning briefing, check my workload and then head out to engage with my community. The unpredictability and variety is what I enjoy the most. It is also very rewarding helping vulnerable victims and seeing how grateful they are for my help.
"My advice would be to be prepared that this job is unpredictable and you will find yourself in situations where you will have to be decisive, professional and assertive despite whatever feelings or emotions you may have at the time."
Meet Adriana, who enjoys getting to know the local community and has been a PCSO for 9 years.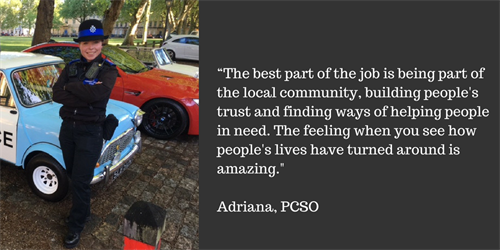 "Joining the police has been a dream of mine since I was a little girl.  So when I came to the UK from Poland I was happy to hear that Avon and Somerset Police needed Polish officers to join the force. The recruitment process was quite long, but there was a lot of support available that made it easier to complete. 
"I've always wanted to help people and enjoy getting to know the individuals and communities where I work.  It's also very satisfying to be able to put people in touch with organisations and groups that can support them - for example helping homeless people find accommodation or letting them know where they can have a meal.
"The best part of the job is being part of the local community, building people's trust and finding ways of helping people in need.  The feeling when you see how people's lives have turned around is amazing.
"Of course there are challenges, not everyone agrees with what we do or how we do it. And people have different expectations of how we should be spending our time.   But learning to deal with that is part of the job. And you always have the support of the rest of your team which really helps."
Meet Abdillah, a PCSO based in Bristol who wants to make a positive impact in his community.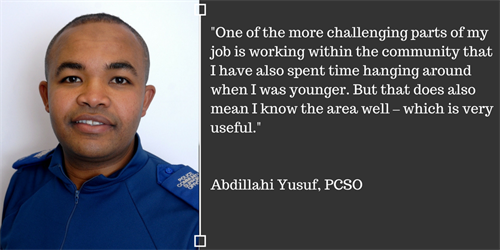 "I became a PCSO because I wanted to make a positive contribution in my local community and also find ways to help others.
"The recruitment process was very straightforward, and I found the support from Avon and Somerset Police during the process really helpful – although the interview was quite challenging!
"The training was fantastic, with lots of different things to learn. 
"I enjoy my job and find it very satisfying to be able to offer reassurance to vulnerable people, and help to reduce people's fear of crime."
Meet Silas, a PCSO who enjoys supporting the vulnerable people in his community.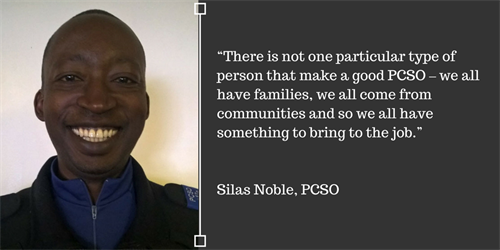 "I became a PCSO because I wanted the opportunity to work with different people within communities. I also really enjoy solving problems. Being a PCSO gives me the chance to work with my colleagues and other partners to come up with solutions for people in our community who need support.
"The recruitment process was very straight forward, although it is very thorough so it can take a long time to get from your first application to actually beginning your training.
"The recruitment team was very supportive and happy to talk me through any part of the application process that I was unsure about so that made me feel a lot more confident.
"PCSO training was brilliant, we had a very supportive trainer, and we all encouraged each other. We learnt what we can and can't do as PCSOs and how to handle different, and difficult, situations.  
"I really enjoy my job and am extremely proud of what we achieve.  I enjoy supporting some of the most vulnerable people in our local communities. We also play an important role in identifying and helping to prevent crime.
"The role is really appreciated across the force and senior teams are very supportive of the work we do and the contribution we make.
"I am really proud of the job that I do."
If you would like to find out more about being a PCSO join us on Facebook on Friday 12th January at 3pm.
If you would like to read more and apply, click here.
Recruitment closes on 18th January at 09:00.