Domestic abuse survivors - our stories
To mark our month-long domestic abuse awareness campaign, we've asked some survivors to share their stories.
They all hope that by talking about their experiences, they might help someone being abused.
Each week, we will be adding more voices to this feature, so please keep coming back to hear from women, men, members of the LGBT+ community & elderly victims.
------------------------------------------------------------------------------------------------------
MARK'S STORY
Mark talks about the abuse he suffered at the hands of his boyfriend. We've changed the names of those involved.
"When I first met Tom I fell in love immediately. He did have a tendency to get jealous and was constantly accusing me of seeing other guys, but he was so supportive with the things I was going through, I just decided to put up with it.
"When I moved in to his house it was one rule for him and another for me… He was allowed to leave his wet towel on the banister to dry, but I wasn't; if he left his things lying around it was because they were 'needed', but if I did, they were' in the way'.
"He would frequently go through my things to look for signs I was having an affair. We had really big rows about it. He thought I was sleeping with all of my friends, and gradually I lost them all as he drove them away.
"Things escalated and I had a second set of keys cut as every other day he would take them and throw me out for 24 hours – often without a coat or anything, it was becoming impossible for me to do anything.
"A female friend would just say that I should leave him, but I didn't want to leave him I wanted to make it work, and financially I couldn't afford to anyway.
"Never have I been treated so badly by a partner, but neither had I felt so loved and cared for so deeply, so that's why I stayed."
"There were a couple of instances when he did go for me physically, and the one occasion I did hit back but felt sick to my stomach as I felt I had then become the abuser. I never felt that he would do me serious harm, perhaps because we were a more even match physically, however he was just getting more and more controlling… yet more and more 'out of control'.
"I did eventually leave with the help of a friend and endured endless texts and calls, in time it stopped and it's only looking back that I realised how bad things were when I was in it. I might have tried to get some support if I had realised it at the time."
------------------------------------------------------------------------------------------------------
PAUL'S STORY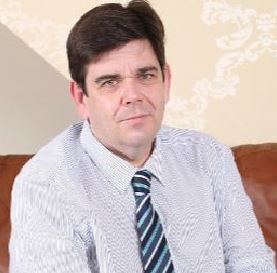 Paul was abused by his wife for 10 years. In 2014, she assaulted him so badly that she split his head open. He contacted the police and she was later jailed.
Paul is now an ambassador for Mankind, the Taunton-based charity for male victims of domestic abuse, and is also part of the reference group for the Victim's Commissioner Baroness Newlove. 
"I suffered abuse from my wife for 10 years.
"During that time, I felt coerced, isolated and humiliated.
"The final straw was on March 2nd 2014. That was the day she attacked me, in front of our daughter. She hit me so hard that she split my head open.
"This was not the first violent attack.
"I had to speak out to try and stop her, so I contacted police and, over 6 hours, told them everything."
"My wife was later charged with GBH and common assault.
"She still failed to accept any responsibility for her actions as she pleaded not guilty at court.
"This forced me to give evidence for 5 hours and my young daughter had to give evidence for 2 hours via videolink.
"The jury saw through her lies and she was found guilty by a unanimous verdict. She was given a 16 month prison sentence.
"I had no idea which prison she is or when she was released.
"I now have a restraining order in place and the family court granted me custody of our daughter.
"I would urge anyone who is coerced or abused by their partner to come forward and report it.
"The police will listen."
-------------------------------------------------------------------------------------------------
40 YEARS OF ABUSE
Here one of our colleagues at Avon and Somerset police talks about the moment she confided in someone that she was the victim of 40 years of abuse.
"Abuse and depression went hand in hand for me - bruises heal but emotions don't and I was never one to share. 
"I wish I had talked about it all a whole lot earlier and maybe none of this would have happened.  
"For nearly 40 years I told no-one and it got me exactly nowhere, except to the point of almost complete breakdown."
"For nearly 40 years I said nothing – until an eagle-eyed, caring manager took me aside and told me she had watched me from a distance – watched my health go downhill and saw me isolate myself from the rest of the team – which I knew but was powerless to stop.
"I remember the sinking feeling while I listened to her that first day - asking me if I was being abused – I listened and felt her peel the layers away.  
"I cried that day, mostly with relief, that it was out there.   
"At work I sat on my own as much as possible. I didn't socialise. I was quiet and withdrawn. Several times I hurt so badly - a beating after saying the wrong thing – I was in the depths of despair. I had no one to turn to. 
"That was the day, the day I walked into work following an incident resulting in a bruising. I was ready to brazen it out, which I did mostly.
"My nerves shattered when my manager took me aside and sensitively but determinedly told me she knew I had not walked into a door. In turmoil the tears flowed – part of my hidden life was now known.  I didn't know it then but it was the best thing that ever happened.
"You are never "ready" to talk about it and some days – more than I cared to admit – I wanted to end it all. There seemed no way out, and I wasn't in a rational frame of mind, not thinking about the effect it would have on others.
"I know how lucky I am to be here and now I realise that it was a process I had to go through to come out the other side.
"I always thought my life was a tragedy waiting for an ending - now I know it was a new beginning." 
"I am under no illusions that it will all be smooth from now on, but I am more capable of dealing with things that are perfectly normal.  I have made poor choices along the way and self- sabotaged my own recovery by isolating myself.  I have layers of shame, fear and self-hatred that have been with me for a very long time - layers that I am not sure I even knew existed.
"If there is anything I have learned while speaking to and working with people in great difficulty is that pain is everywhere. It is often buried, lurking in the background as we try and protect ourselves from the world.  I have finally got to the position where I know hiding doesn't relieve the pain. 
"Recovery has been slow-moving and I found that very frustrating at times. It has been a long battle, some highs and a lot of lows. My emotions have been hung out to dry. Despite all the violence and depravity I am living proof that there is a way out. Nearly three years have passed, at my age it is like starting over – daunting but do-able.
"I am now taking back my life.
"You know for the first time I can honestly say I feel detached from domestic abuse – it no longer holds me in its power! Probably a bit dramatic, but that's what it feels like.  It was always too raw before, but now I feel like I have not only survived but moved on."
------------------------------------------------------------------------------------------------------
'THE BRUISES ARE REAL - YOU JUST CANNOT SEE THEM.'
Here, one of our own police officers has bravely spoken out about her experience as a victim of domestic abuse.