Drivers charged during Christmas drink drive campaign
More than 100 drivers were charged with drink and drug driving during this year's Operation Tonic.
The annual Christmas drink and drug driving campaign ran from December 1st – January 1st and saw 184 people arrested and 117 charged.
This is an increase from 155 arrests and 96 people charged last year. We saw an overwhelming response from the public during the campaign with 634 calls being made to us from people with concerns about drivers.
As a direct result of these calls alone, we arrested 52 people.
As part of our pledge to deter as many drivers as possible for getting behind the wheel after consuming alcohol or drugs, we're naming those charged.
All people charged undergo risk assessments to ensure that those who are considered to be vulnerable would not be placed under increased pressure by being named.
The following drivers have been charged in the final week of the operation:
Andrej GRABOVSKIJ, 29, from Bridgwater
Charlotte Ann KENT, 24, from Glastonbury
Anthony Aiden MCBRIDE, 34, from Yate, Bristol
Mantas UZALONIS, 29, from Yate, Bristol
Vasil KOSTOV, 27, from Bristol
Benjamin STOCKHALL, 34, Weston-Super-Mare
Mateusz KRZEMINSKI, 22, from Stonebridge
Callum VOWLES, 23, from Shepton Mallet
Benjamin Edward JAY, 23, from Taunton
Jay Michael MILKINS, 26, from Bristol
Scott REDMAN, 43, from Bristol
Eduard HOGAS, 43, from Shepton Mallet
Oliver ARIS, 26, from Torquay
Julian TAYLOR, 54, from Bath
Nathan SMITH, 43, from Clevedon
Radoslaw UBYSZ, 41, from Lawrence Weston, Bristol
Robert CULLEY, 35, Frampton Cotterell, Bristol
Head of Road Safety at Avon and Somerset police, Chief Inspector Kevan Rowlands said:
"Although it's disappointing that more than 100 drivers have been charged with serious offences, I am thrilled with the response from the public.
"The number of calls we had from the public to report people who they believe are driving under the influence of drink or drugs has been fantastic and a real highlight of the operation. That has had a significant impact on our ability to catch and arrest offenders.
'It is clear to me that the vast majority of people see the danger caused by drink and drug drivers and are willing to do something about it by reporting offenders to the police.
"We've reviewed all the arrests and many are not related to the party season which means our message about not driving after a night out seems to be getting through.
'What we have noticed during Operation Tonic is that a significant number of the people we have arrested appear to have some form of alcohol or drug dependency and are not recreational drinkers.
"If you have a friend or relative that fits this category then please reach out to them and get them to stop driving.  If they don't then, for their sake and the safety of others, you need to report them through the contact section on our website www.avonandsomerset.police.uk or anonymously through Crimestoppers on 0800555111 or www.crimestoppers-uk.org.uk"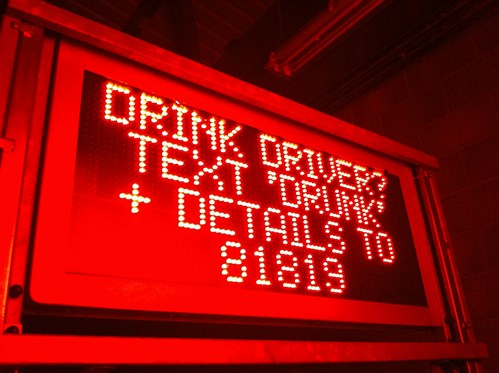 By targeting drink and drug driving, we aim to help reduce deaths, serious injuries and crime on the roads of the Avon and Somerset force area. Drink/drugs driving is one of the 'fatal four' offences, together with speeding, not wearing a seatbelt and using a mobile phone while driving, that are known to cause the majority of deaths on our roads.
While our Christmas drink driving campaign has finished we will continue to be vigilant and target drink and drug driving in order to help reduce deaths, serious injuries and crime on the roads of the Avon and Somerset force area.
Operation Tonic in numbers:
December 2016: 184 arrests + 117 people charged
December 2015: 155 arrests + 96 people charged
December 2014: 106 arrests + 59 people charged