Find out why we are introducing spit guards to protect our officers
"I was upset that night. I couldn't come home and kiss my children like I normally would. They asked me why. I didn't trust what this man would or wouldn't have. And as the spit landed in my mouth I couldn't trust exactly what I would or wouldn't catch."
Police officer, Bristol
Everyday our officers face being spat at. That's why from January 2018 we'll introduce spit guards to protect officers who work in difficult and challenging circumstances to keep local people safe.
There are already 25 police forces across the country using the guards.
Figures reveal the scale of the problem faced by officers. In just one week in November 2017, out of 28 injuries against officers, 4 were officers being spat at. And since April 2018, out of 487 recorded assaults against officers, 79 involved spitting.
Incidences of spitting, caught on bodyworn cameras show the challenge officers face on a daily basis as offenders deliberately spit at them.
And personal testimonies from some of the officers reveal the impact spitting can have:
John's story

There are two types of spitting. Spontaneous spit and spit as a weapon - when someone spits knowing they are infected – and is deliberately putting those around them at risk. Last night (7 November 2017) we got a call at 11pm from an off duty paramedic who stopped to help a woman in the road. He helped her up and she punched him. So he called us.

We arrested her for being drunk and disorderly and assaulting a PC. In the van she said: 'The first person I see I will spit in their face and I'm contaminated'. She has hepatitis C. We needed to get her out of the van and into a cell.  She was continually spitting, spit that was bloody. It was disgusting; she was trying to infect us.

The only kit I could offer my officers to protect themselves was riot helmets.We needed to remove her clothes for her safety yet all the time she was spitting at us.

Still concerned about protecting her dignity, four female officers borrowed ill-fitting riot gear and stepped up to help. We were all double gloved but it was terrifying, worrying about what was getting onto our skin.
We protected the woman for 11 hours, it was so challenging we took turns to do 30 minute shifts. It was exhausting.

After the shift we all went home to our kids wondering what we were taking home. This type of experience affects officers. And it happens on a daily basis.
Spit guards will only be used by trained officers in situations where someone says they are going to spit, has attempted to spit or has already spat. A spit guard will only be used when an officer's body worn camera is switched on.
Use of spit guards will be recorded and this data will be made public. The Police and Crime Commissioner's Scrutiny of Police Powers Panel, which is made up of local people, will also review the use of spit guards as part of their quarterly meetings.
An officer's story

I was in Bridgewater and got a call about a man who'd just left custody and was causing havoc in a pub car park. He was a drug user and rough sleeper.

I got him in the back of the police car and he turned to me and said '**** you, you pig' and spat at me, all over the side of my face and my jacket.

It was just vile. I would rather be hit than spat at, because there is no defence. And people don't spit and stop, they keep spitting.

After the assault there is more of an aftermath - you are left thinking have I got any diseases? I was really worried about all the possible issues. But I was lucky, I'm okay this time.
The decision to introduce spit guards is part of our support for the Police Federation proposed Assault on Emergency Workers (Offences) Bill to highlight the number of assaults on officers. Spit guards will be rolled out to all operational officers from January 2018 after they have completed their training.
As we launch our intention to rollout spit guards we are asking officers to share their experiences of being spat at as they do their job. Follow these on Twitter using #ProtectTheProtectors and #SpatAt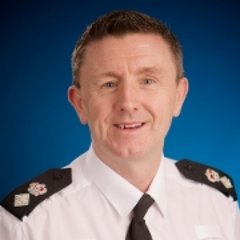 ACC Stephen Cullen said: "The increase in reports of spitting against our officers has convinced us that we need spit guards to protect ourselves.
"Only last week a woman with Hepatitis C was spitting infected blood and saliva at four female officers as they looked after her for 11 hours in custody. The only protection currently available was riot helmets to protect their faces.
"We believe our officers should have the right kit to do their job and this includes spit guards. We also hope their introduction will deter people from spitting at police officers in the first place."
Vince Howard, chairman of Avon and Somerset Police Federation said: "We are pleased to see the introduction of Spit Guards for front line officers.
"This option affords those officers, who are increasingly subject to this abhorrent act, the opportunity to protect themselves from the risks of serious communicable diseases."
"This is a protection and prevention measure and we welcome the support offered by the Constabulary in making this equipment available"