Focus on online Hate Crime
As part of our Hate Crime Awareness campaign we are helping people to identify what a hate crime is and what they can do to report and get support. Online hate crime has seen a recent rise, with many people using the anonymity of social media to inflict abuse on others, but how do you know that you are a victim of a hate crime or being bullied.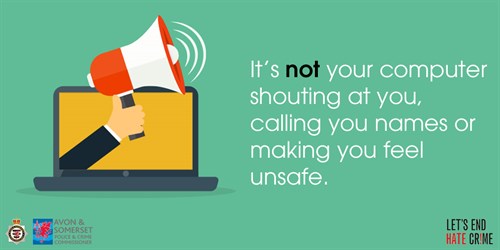 What is the difference between bullying and a hate crime?
Bullying can also be described as a hate incident. This is when the victim or anyone else thinks an incident, such as bullying or abuse, was motivated by hostility or prejudice based on one of the following things:
Disability (including physical disabilities, sensory impairments, learning disabilities and mental health issues)
Race, skin colour, ethnic origin, nationality (including against gypsies and travellers)
Religion or belief (or lack of religious belief)
Sexual orientation (including homophobia)
Gender identity (including resentment of transgender people, transsexuals and transvestites)
Hate Crimes are when a hate incident becomes a criminal offence. Any criminal offence can be a hate crime if it was carried out because of hostility or prejudice based on disability, race, religion, transgender identity or sexual orientation.
Hate crime can take many forms from a continuous campaign of subtle language by a colleague or neighbour to an isolated incident of suggestive harassment from a stranger. If you believe you are in physical danger because of threats or abuse online then contact the police.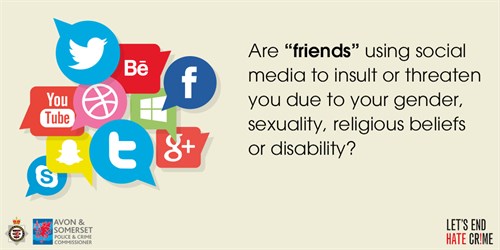 How to report a hate crime
Anyone with information about a hate incident is asked to report it either by calling 999 in an emergency, 101 in a non-emergency or in person at a police station.
We would prefer to speak to you on the phone or in person, however if contacting us online is the safest way for you to get in touch, you can complete our online reporting form.
If you don't want to contact us directly please use an independent agency or report it online at www.report-it.org.uk
Who can help if you are being bullied?
If you are being bullied, but no criminal offence has taken place then this is not a hate crime. Please do speak to a trusted adult or one of the organisations below so they can help you.
Trusted adults may include parents, grandparents, other relatives, teachers, social workers, youth workers, friends' parents or a club leader. Speaking to them will help.
Helplines

Childline offer 24 hour support for young people on a range of issues. Call 0800 1111
Get Connected offers confidential help by telephone, email, text or webchat for young people under 25s. Call 0808 808 4994
You & Co is Victim Support's youth programme that helps young people cope with the impact and effects of crime. You do not have to report the crime to the police to get support from them.
Visit www.getsafeonline.org/avonandsomerset for tips and advice on how to stay safe online. There is guidance on identifying online radicalisation, cyberstalking and staying safe on social networking sites.