Focus on Transgender Hate Crime - Cathy's story
Cathy was a victim of gender hate crime, she was attacked in her local pub because she was about to transition to living full time as a woman. Everyone in the pub knew about her future changes. A few people were bigoted but a lot leapt to her defence.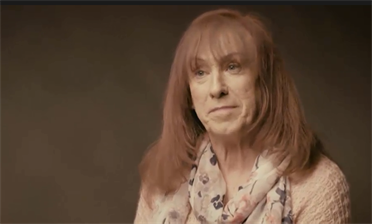 Cathy has shared her story with us:
Inside I have the heart of a simple and soft woman, but I am a woman who was born with a physical deformity. I have lived my whole life pretending to be a man to avoid destroying loved ones close to me. I hated it; I really didn't understand it and I felt dirty and out of place throughout my life. So my biggest success in my whole life has been to lie and manipulate everyone round me so they only see a man.
For the most part of my life I have lived being mentally paralysed, but I am too stubborn to give up on life. Of course there has been some good stuff but it felt like I was looking through a fog at a life and a world that I didn't have a full membership of. It was hard to appreciate that I had anything to do with any of the good stuff happening round me or any right to believe I could deserve any of it.
I transitioned last October and the feeling of being right and belonging was immense and complete and to my surprise it was instant. That doesn't mean a problem free, soft and fluffy life, it just means I have had the privilege of facing life living as the real female me. it isnt better beign female or being male, it is a simple wonder to live as one's self.
It isn't better being male or being female, it is a simple wonder to live as oneself.
This is a luxury that most take for granted and don't feel the need to appreciate how massively debilitating and claustrophobic it has been for the whole of my 62 years in this life. It isn't a novelty for me it is just real and wonderful and that will never go away.
When I chat to people, some say I must be proud and I must have amazing courage. Neither of which is true. Of course I thank them for their kind words, but I don't have courage, I am as weak as a kitten. I am certainly not proud of being Transgender, people do not have to be proud of their gender, it is just who they are.
What would your message be to others who have been victims of hate crime?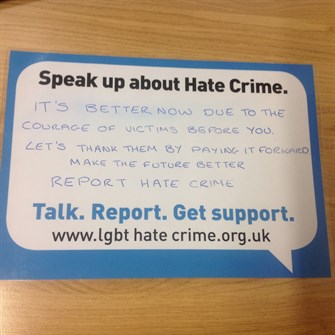 I would encourage anyone who has suffered true, uncalled for and unwarranted bullying, to report the matter to the police. It is often the case that bullies are cowards and those who bully are probably hiding secrets of their own, but some will retaliate to punish the person who has had the audacity not to allow themselves to be bullied. I would encourage reporting but with care and making sure their protection is there.
In many cases it will send a message to the bully and those close to them that bullying will not be tolerated. It is easy for bullies to intimidate and hurt vulnerable people and just like other forms of this crime, the bully will always try to make the victim believe it is their fault in the first place.
We also need to consider that everyone has the right to disapprove of or dislike how we live, but they don't have the right to humiliate, ridicule or be violent. The law protects us to be able to live as we need or want to, but we don't have the right to be the aggressors and thrust it in the face of the bigots. That is also bullying.
I reported my incident because I have spent time in the forces and I will not be bullied. I did have to accept that reporting opened me to the risk of being further hurt. It worked out well and the bully was warned off, even though his family tried to encourage him to take no notice of the police.
I had a wonderfully understanding police woman. She didn't understand most of what being Transgender is all about but she did know how to listen and learn from someone in a diverse group.
She was not only able to listen but also able to interpret that information to understand and empathise. She is an asset to the modern day police force and should be used as an example of where everyone should aim for.
Can you be the next one to be trying to persuade someone else to report Hate Crime, telling them that you took that chance and trusted the police and were not let down. Life is a little easier for them to report it because you took that leap of faith. Asking them to make that leap of faith and make it better for their future and the people who come after them. PLEASE REPORT IT
Cathy is now working closely with Avon and Somerset Police to help train our officers in how they can support victims of hate crimes.
It is too easy to label people, I don't like being labelled but I recognise that some people see me that way. When I was attacked before my transition, I reported it to the police. I also received support from SARI, an organisation which really helped me and I now want to help others.
My focus is on making the future better by educating the public.
I worked with Avon and Somerset Police to share my story as part of their hate crime training programme. It is important that officers receive this training because changing attitudes can start with the leadership the police can give and of course protecting the public. There are a lot of good, genuine, hard-working, honest and well-adjusted police, but it is obvious that there are some gaps and that is where this hate crime training programme helps.
For people to be accepting, they need to understand. Understanding comes from people's willingness to learn.
I hope to do my small part in helping with education and hopefully encourage more understanding. Of course, the police are part of society but essentially are leading the public and this makes me very willing to help if I can.
By being a small part of helping with this education for and with the police, maybe people in diverse groups can start to gain confidence that reporting incidents will be handled well by the police; they will have some level of protection when they do so and the attitude of the bullies will also change.
Will White, Hate Crime Lead for Avon and Somerset police says:
"We know that gender and sexuality hate crime is under reported. We want people to have the confidence in us to report a hate crime; we will listen, we will take your report seriously and we will do everything we can to seek justice. Our enhanced training programme with the inclusion of case studies like Cathy's, gives our officers the understanding and the victims the confidence to report."
Get support and Report
If you are a victim of a hate crime like this then please report it to the police. Hate incidents - whether it is verbal, physical or on social media – should be reported to the police. Improved recording of these crimes will enable a better understanding and help identify and improve services for victims in communities where hate crimes are evident.
Anyone with information about a hate incident is asked to report it either by calling 999 in an emergency or 101 in a non-emergency or in person at a police station.
If you feel you can speak to us, we would prefer to speak to you on the phone or in person, however if contacting us online is the safest way for you to get in touch, you can complete our online reporting form. If you don't want to contact us directly please use an independent agency or report it online at www.report-it.org.uk
Who else can help you?
The Bristol Hate Crime Service was launched in 2013 and is made of four local organisations: SARI (Stand Against Racism and Inequality), LGBT Bristol (Lesbian, Gay, Bisexual and Trans Communities), Brandon Trust (working with people with disabilities) and Bristol Mind (for better health).
All of these organisations are there to help and can be contacted on 0800 171 2272. By calling SARI to report a hate crime a worker from one of the above organisations will be allocated to the case. They can help wherever you live in Avon and Somerset.
To speak to the Avon and Somerset Police liaison team, contact 101 and ask to speak to a member of the LGBT liaison team. Or you follow them on Twitter @ASPoliceLGBT or on Facebook at ASPolice LGBT