Have confidence in reporting a hate crime
Be confident in reporting a LGBT hate crime
As part of our Hate Crime Awareness campaign we are focusing on gender hate crime, helping people to identify what a gender hate crime is and what they can do to report and get support. There are many ways to report a hate crime and lots of support available.
LGBT hate crime is one of the lowest reported hate crimes. Despite this nationally, sexual orientation was the motivating factor in 10% of all hate crimes recorded by the police in 2012/13.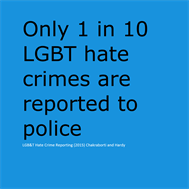 In August, we conducted a Twitter poll asking what would help encourage our LGBT communities to report hate crimes.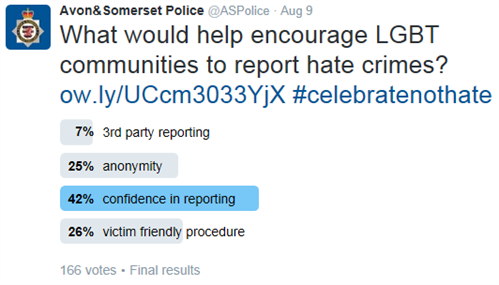 Have confidence in reporting to us
There are many ways that you can report a hate crime. If you feel you can speak to us, we would prefer to speak to you on the phone or in person:
• Call 999 in an emergency or 101 in a non-emergency
• Report it in person at a police station.
If the safest way for you to get in touch you is by contacting us online you can complete our online reporting form. Be assured that the form will go to the Incident Assessment Unit, who are trained to review every report and action where appropriate.
Throughout this week we have shared the stories of victims who have reported their hate crime to the police and are now working with us to improve how all of our staff and officers can support the LGBT community.
Lucy shared her story and is now running workshops with our officers and staff briefing them on Trans issues. Cathy has also shared her story as part of our hate crime training programme with her aim that:
"By being a small part of helping with this education for and with the police, maybe people in diverse groups can start to gain confidence that reporting incidents will be handled well by the police"
Who else can help you?
There are a variety of organisations and services that offer advice and guidance about gender hate crime:
LGBT Bristol is a forum for Lesbian, Gay, Bisexual and Transgender in the Bristol area. Established in 1994 they are a forum for circulating and publicising information about local LGBT support groups and services and events targeted at LGBT communities in Bristol and the surrounding area. They can be contacted on 0800 171 2272 or via their website http://lgbtbristol.org.uk/.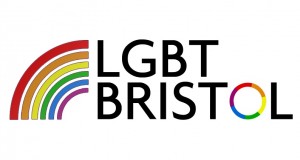 The Avon and Somerset Police liaison team have a non-emergency voicemail facility on 01275 814742 or follow them on Twitter @ASPoliceLGBT