Have confidence in reporting hate crime
This National Hate Crime Awareness week we are continuing our campaign to raise awareness of Hate Crime and the devastating effect it can have on its victims. Throughout our campaign we have been trying to encourage victims to come forward and report hate crimes and receive the support they deserve.
We are working with our local communities and partner organisations to raise awareness of hate crime and support victims. Improved recording of these crimes will enable a better understanding and help identify and improve services for victims in communities where hate crimes are evident.
There are many ways that you can report a hate crime, either in person or online. We have developed the infographic below to demonstrate the process of reporting a hate crime and the support you can expect to receive.
If someone confides in you about a hate crime, please encourage them to report it.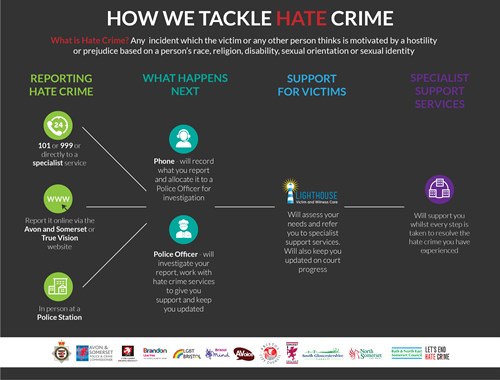 Have confidence in reporting to us
There are many ways that you can report a hate crime. If you feel you can speak to us, we would prefer to speak to you on the phone or in person:
• Call 999 in an emergency or 101 in a non-emergency
• Report it in person at a police station.
If the safest way for you to get in touch you is by contacting us online you can complete our online reporting form. Be assured that the form will go to the Incident Assessment Unit, who are trained to review every report and action where appropriate.
Who else can help you?
There are a variety of organisations and services that offer advice and guidance
Bristol Hate Crime and Discrimination Services: A collaboration of expert community-based services led by Stand Against Racism & Inequality (SARI), together with Bristol Mind, Brandon Trust, LGBT Bristol, the Avon and Bristol Law Centre, and Bristol Mediation.
Stand Against Racism & Inequality (S.A.R.I.): www.sariweb.org.uk SARI provides support for victims of any type of hate crime including racist, faith-based, disablist, homophobic, transphobic, age-based or gender-based. SARI offer help with stress, fear and trauma caused by hate crime as well as support in, taking action to resolve cases, agency coordination, referrals and legal support.
Brandon Trust: https://www.brandontrust.org/ Brandon Trust is a charity supporting adults and children with learning disabilities and autism.
Bristol Mind: http://www.bristolmind.org.uk/ Bristol Mind is a mental health resource for people in Bristol and surrounding areas providing a safe place to talk about your feelings confidentially. They provide information and signposting, counselling, a confidential helpline and Transgender helpline, a hate crime service, volunteering opportunities and high quality training courses.
LGBT Bristol: http://lgbtbristol.org.uk/ LGBT Bristol works in partnership with Bristol City Council to empower lesbian, gay, bisexual and transgender people to become actively involved in community life. They challenge homophobia and transphobia and help promote understanding of equality and inclusion. When a LGBT related hate crime is reported to SARI, a worker from one of these will be allocated to the case.
Restorative Approaches Avon and Somerset (Bristol Mediation) - T: 0117 941 5879 / M: 07377 864060 / cases@restorative-approaches.org RAAS is being delivered by Bristol Mediation in partnership with Avon and Somerset Police and is an amalgamation of the existing Bristol Neighbourhood Justice Team (NJT) and North East Restorative Approaches (NERAP). The simplified service provides a holistic approach to Restorative Justice in order to provide tailored and integrated support.
Avon and Bristol Law Centre states: www.ablc.org.uk The Law Centre provides free legal advice and representation, legal education and training, capacity building for other advice agencies, and advocates for changes to public policy that promote equality and justice.