How to report a Hate Crime
We're highlighting the importance of identifying and reporting hate crimes.
If you witnessed a hate crime would you know what to do? This animated video, produced by the University of Leicester demonstrates the impact turning a blind eye can have on a victim of hate crime. Would you have offered the victim help or would you have kept walking?
Will White, Hate Crime Lead for Avon and Somerset police says:
"The four victims in this film found themselves in situations which could have been made better by members of the public stepping in to help or report these incidents. We want to encourage people to recognise a hate crime and understand how to report it."
What is a hate crime?
A hate crime can be at differing levels from the verbal abuse experienced by the lady in the supermarket to the physical attacks on the man at work. All of these crimes could be hate crimes if motivated by prejudice or hate:
Physical attacks such as assaults
Vandalism, criminal damage, graffiti or arson
Verbal abuse or abusive gestures
Cyberbullying
Offensive communications
Threats of an attack
Financial exploitation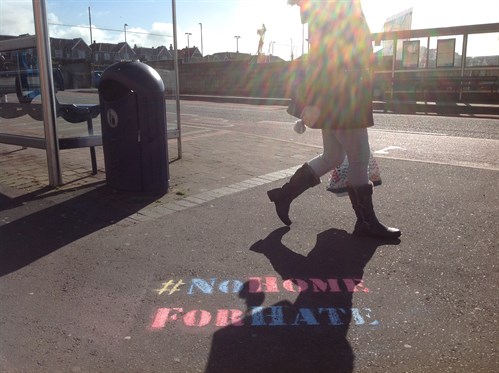 What would define a crime as a hate crime?
Anyone can be a victim of hate crime; you don't need to be a member of a minority group. We currently monitor the following characteristics as a hate crime, but they are not restricted to these.
Physical or learning disability
Skin colour or ethnic origin
Sexual orientation
Mental health issues
Nationality
Religious belief
Gender identity
It could also be a hate crime if you are a victim of a crime due to your personal characteristics. If you think the motivating factor was because of a personal characteristic, then you have suffered Hate Crime so please report it.
How would you report a hate crime?
Improved recording of these crimes will enable a better understanding and help identify and improve services for victims in communities where hate crimes are evident. If someone confides in you about a hate crime, please encourage them to report it.
Contacting the police on 999 in an emergency or 101 in a non-emergency
Contacting a local support charity or organisation
Reporting online on the True Vision website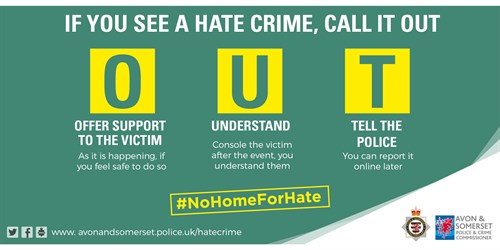 Where can you get support if you are a victim of a hate crime?
All of these organisations will be able to support you if you are a victim of a hate crime. Please also contact the police to report the crime and prevent future victims.
Lighthouse Victim Care website
Stand Against Racism & Inequality (S.A.R.I.)