"I didn't see it as stalking. He was my husband."
Police are highlighting the signs of stalking and encouraging victims to tell someone, in support of the Suzy Lamplugh Trust's National Stalking Awareness Week (24th-28th April).
Reports of stalking and harassment in Avon and Somerset have increased by about 52% in the last year. The largest number of reported crimes was in the subcategory of Malicious Communication, which includes sending letters or digital contacts with the intent to cause distress or anxiety. The force is using this campaign to highlight the fact stalking can take place in-person, online, or a combination. It focuses around the anxiety a victim might feel when they see a notification on a social media application and the fact no one should live in fear of another person.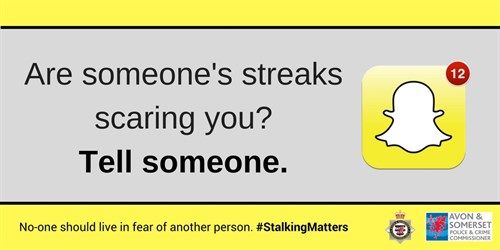 Detective Superintendent Richard Kelvey, force lead for Stalking and Harassment, said: "The rise in reports of stalking and harassment can partly be attributed to better awareness, increased training for officers, and a change in legislation, which led to the introduction of two offences in 2015.
 "We're supporting the Suzy Lamplugh Trust's week-long initiative in a bid to bust the myth that stalking has to involve someone sitting in the bushes outside your house before it's considered a crime, and to encourage victims to seek help.
"Stalking can include any persistent and clearly unwanted behaviour that causes the victim anxiety or fear. It's obsessive and could take the form of social media, texting, calling, sending unwanted gifts or a mixture of these and other actions. The most important thing to remember is that, if someone's behaviour is intimidating you, please tell someone."
Avon and Somerset Police and Crime Commissioner Sue Mountstevens said: "Raising awareness of stalking is essential in encouraging people to come forward and seek help from the police or other agencies. Stalking is unacceptable and it is a criminal offence.
"The impact of stalking on victims and their families can be devastating. I would urge anyone affected by this crime not to suffer in silence. Please tell someone and seek the help you deserve to protect you from anyone who may want to cause you harm."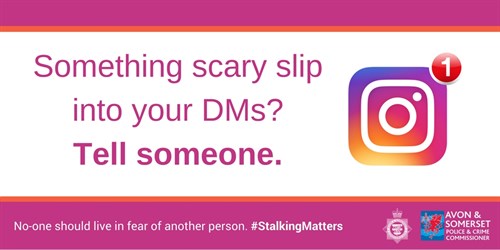 This is Annika's story.
I didn't see it as stalking at the time. He was my husband.
When I think of stalking, I think of a stranger following me home. But this was so different.
I had only recently managed to leave him after an abusive relationship.
He was texting me, phoning me, writing letters. He would even write letters to our children but it was obvious they were meant for me. It was very manipulative.
I'm not sure he would have stalked anyone else. Just me. I think he was obsessed with me. With controlling me. When I left and he started to lose control, that's when it became worse.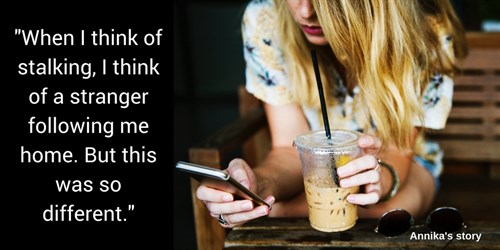 I started ignoring him. But that him made angrier. And it felt like when I replied to him, I had some control.
When I found the strength to stop all contact it, it was scarier because I didn't know where he was. It got to the point where I was scared to go to the shops in case he was there.
It got so bad that the only place I felt safe was in a women's refuge. He had instilled so much fear in me through the abuse that I thought he could find me. And part of me was still trying to protect him because, on some level, I still thought of him as this wonderful man.
When I finally spoke to the police about it, it was such a relief. I changed my number and mum changed hers. I also had a five-year restraining order. Luckily he backed off, and he didn't pursue contact with our children.
If you've been in a relationship where there's been abuse, you already feel like everything is your fault. That guilt is already there. You think you're just being silly.
But I think it's more common than people realise.
Stalking doesn't have to be a stranger, it can be someone you know, like an ex-partner. And it doesn't have to be in-person - stalking can include texting, calling, sending unwanted gifts or contacting you on social media.
If anyone reading this thinks someone may be stalking them, I want you to know, you're not being silly. If it scares you in any way, it's not right.
No-one has the right to intimidate you. If you feel anxious or scared; if their contact is persistent and clearly unwanted, please tell someone. There is help and support out there.
Anyone concerned that they, or someone they know, may be the victim of stalking, can contact the Suzy Lamplugh Trust's helpline on 0808 802 0300 or via this form on their website for advice and support, or police on 101 or online. In an emergency, always call 999.