Know the person, not the profile
We know that many people have replaced chocolates and flowers with 'swiping right' in their search for love.
Most singletons are now on dating apps and research shows that there are around 50 million active users on Tinder alone.
Along with this surge in popularity, there has been an associated sharp increase in the number of crimes relating to online dating. In the last five years, there has been a 2,000% national increase in the number of crimes involving victims who have met their perpetrator on a dating app.
This increase has been mirrored in Avon and Somerset with 20 crimes associated with Tinder and Grindr reported in in 2014/15, compared to 66 reported in 2015/16. One of the most prevalent crimes committed after meeting online are sexual offences.
To coincide with the festive dating period we've launched a new campaign reminding people to ask the right questions when online dating, to 'get to know the person, not the profile'.
On Sunday evening (11/12) Avon and Somerset police joined Tinder to spread the word. Within 24-hours, we had matched with more than 250 people in our force area. Each time we matched, we shared our top tips for online dating.
The feedback we've had so far has been overwhelmingly positive with both men and women showing their support for our campaign.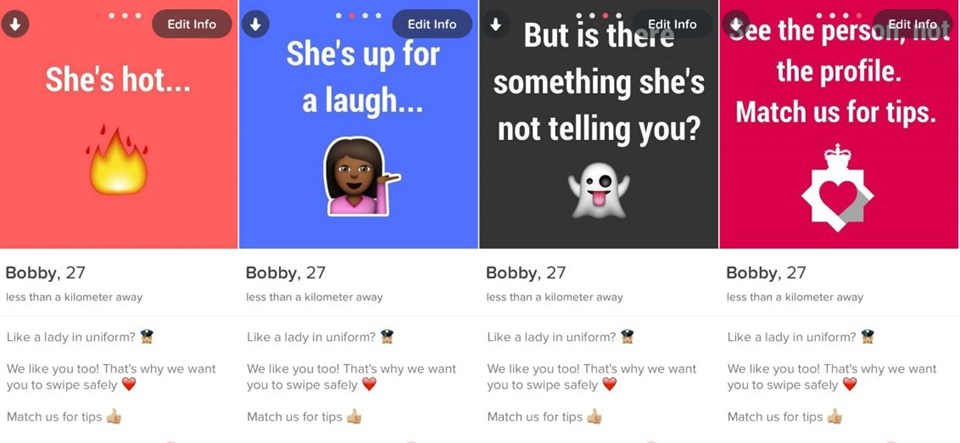 At the same time, we've also launched our new Snapchat account – aspolice - and have already gained hundreds of friends. Scan the ghostcode below to find us on the app -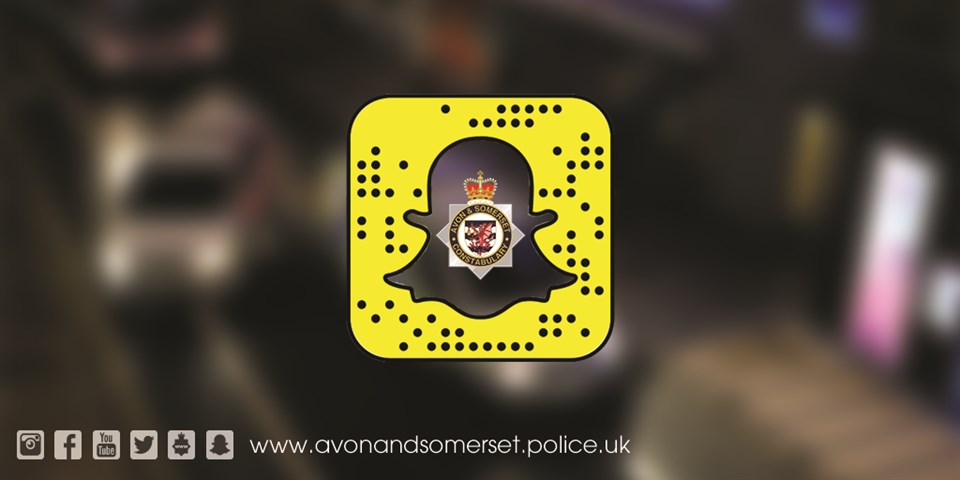 Force-lead for Rape and Serious Sexual Offences Chief Inspector Marie Wright said: "We know that most people are looking for love online but many do not fully realise the potential dangers.
"Our message is very simple; ask the right questions to get to know the person, not the profile.
"You should try and find out who your potential date is before you decide to meet up. Take simple steps – such as asking for more photos than the ones on their profile, get their full name and find out what they do for a living, so you can do quick online search and check they are who they say they are.
"If the date does go wrong and something happens - we want to know about it. We understand that reporting any crime, particularly a rape or sexual assault, takes a huge amount of courage."
"If you've been a victim of crime, no matter what the circumstances were, or who was involved, remember that it wasn't your fault. We will believe you."
The questions to ask
• Ask their full name: it's easy to check people out online and discover if they are who they say they are
• Ask for more photos: to check a profile is authentic
• Ask yourself: if someone sounds too good to be true, they probably are
• Ask a friend: always let someone know where you are going and who you're meeting
• Ask to meet in public: never in a private or remote location
• Ask for help: if anything bad happens on a date, please get in touch with us and report the crime
Examples of sexual offence cases we have investigated lined to dating apps;
Case study 1: Man charged with rape after meeting a woman on Plenty of Fish
In 2013, we charged a 39-year-old man with rape after he attacked a woman he met online. The pair had met up a couple of times after chatting online. The victim then invited the man to her home.
After talking for a while, the man proceeded to force himself on the woman before raping her.
He was later charged with rape.
Case study 2: Man drugged and sexually assaulted after meeting a man on Grindr
"My life has been ripped apart by this." Those are the words of a sexual assault survivor who was attacked after meeting a man on the gay dating app Grindr. After meeting at a Bristol city centre hotel, the man was drugged and sexually assaulted. A man was later charged with administering a substance with intent to stupefy/overpower to allow sexual activity and sexual assault.
Avon and Somerset Police and Crime Commissioner Sue Mountstevens said: "Relationships and finding love are human nature and over the years the way in which we do this is changing.  Whether online or in person, meeting people and dating, we all want to feel comfortable and be safe."
"I have always been clear there are no excuses for rape and sexual assault.  This is a message we have spread far and wide across Avon and Somerset and it's important this message is shared not only physically in our communities, but also virtually in the places that people are talking.
"I want victims to know that if you have been a victim rape of sexual assault it's not your fault.  When and if you're ready to report it to the police you will be believed, taken seriously and receive the support you need to cope and recover from your experience."
To report a crime, call us on 999 or 101 or, for advice and support, click here.