Meet one of our IAG members
Independent Advisory Groups (IAGs) were set up to help our communities work with us to improve our service. They are formed by volunteer members from across the community, who come together to advise on policing issues that may cause concern to local people and communities.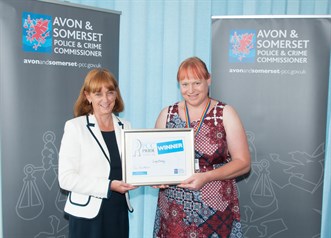 Lucy is a member of Somerset West IAG and was born and raised in the area of Somerset West. Here she explains why she became a member of the IAG, how she has benefited from it and what she has achieved through her role
"I feel it is vital that local people and issues are brought to the force's attention"
I am a woman who has undergone the transitioning process from my assigned gender to my true one. I represent transgender people in Avon and Somerset, using my interactions with people at the South West Gender Identity clinic as my guide for what transgender people are dealing with at the current time.
"Being a member of the IAG has helped me in many ways"
Whilst being a member I have increased my skills by being a member, so even though it is voluntary it has paid me back in ways other than financially.
"Since being a member of the IAG, I have been aware of the lack of awareness the force had with regards transgender issues"
I have used my role as a member of IAG to raise key issues and have seen real difference being made. The lack of awareness of transgender issues was apparent to me when I had been a victim of hate crime. Every incident required me to educate the officers that attended. Whilst I was capable of this, many transgender people are not.
"I felt we needed a way that officers could brief themselves and I brought this to an IAG meeting."
I shared my experiences of reporting hate crime and a few weeks later the Transgender Toolkit arrived in my inbox for me to consider. I spent two days taking this document and making it more relevant to being transgender in the UK; it had been researched from the Internet which often has a more US perspective. Eventually we had this document ready for release and I presented it to a meeting at Police HQ in Portishead.
Moving forwards, there was a Parliamentary report released from The Women and Equalities Committee regarding transgender equality in the UK sometime towards the end of 2015. In that report were several recommendations for UK police forces to consider. I brought the existence of this document to the attention of the force through my IAG meetings.
One point that emerged from that report was that transgender people wanted to be the face of any awareness and/or training. For too many years cisgender (non-transgender) people have been providing inadequate training on behalf of transgender people and many wanted this to change. I expressed this point to the force and I was contacted by an Inspector who worked with me to try to help me become that face of awareness. This resulted in me conducting a series of briefings to various departments of the force. I draw on my life experience alongside my work that I do at the South West's Gender Identity Clinic in Exeter as well as using the Transgender Toolkit as a part of these briefings.
I have also been involved in a couple of other groups, as well as being an observer to some of the training the force receives. There has also been a recruitment workshop where IAG members were asked to provide input in helping make the force more representative.
"With the IAG, I have been able to make considerable inroads into the force and hopefully make people aware of who they are dealing with and how they can be treated accordingly."
There have been many positive changes with society in how it accepts transgender people and I feel the force are starting to move to a good place in being with those changes.
Click here to find out more about what an IAG is, who to contact or how to join your local IAG