On the phone – it's ok to say no
Phone scams are a real problem. According to Financial Fraud Action UK nearly £24m was lost to phone scams in 2014. In January 2017 there were 177 calls to Action Fraud reporting this sort of crime in our force area and we know it's on the rise.
The criminals who undertake this type of fraud are devious, ruthless and inventive, relying on people's honesty or by using bullying and pressuring tactics.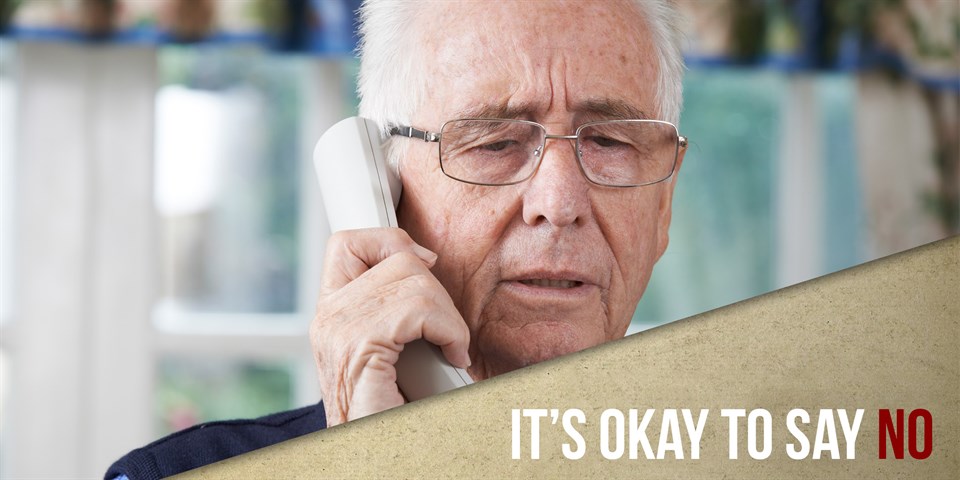 We want to help you keep your money safe; if in doubt it's ok to say no.
On one Friday in January 
13 people reported attempts of fraud by phone, 7 were over the age of 68.
A 42 year old man from the Bridgwater area was called by someone claiming to be from TalkTalk to sort out internet problems. They had the man's name, address and account number. The fraudsters were very close to stealing £1,200 but the victim became suspicious and hung up the phone. He immediately cancelled his card but the fraudsters continued to call.
A woman from Chard was called by a scammer telling her she had an overdue parking fine and if she didn't pay immediately then she would receive a bill for £600. The woman became suspicious and started asking questions; the caller became flustered. She said no and put the phone down. She was not contacted again.
An 80 year old woman from North Somerset received a phone call offering her a refund of £500. After giving them access to her computer, and logging on to online banking, the victim was shown a fake picture of her account with an extra £1000 deposited. The scammer claimed this was an overpayment and asked her to transfer £500 back through a cash transfer website. She did that and lost £500.
Here are five things to look out for when you get an unexpected phone call. There's more advice on the 'Take Five' website here
The caller doesn't give you time to think, tries to stop you speaking to a family member or friend, or is insistent and makes you feel uncomfortable.
The caller asks you to transfer money to a new account for fraud reasons.
They phone to ask for your 4-digit card PIN or our online banking password. Even if they ask you to give it to them by tapping into the telephone keypad rather than saying the numbers out loud, this is a scam.
They ask you to withdraw money to hand over to them for safe-keeping.
They may say that you are a victim of fraud and offer to send a courier to your home to collect your cash, PIN, payment card or cheque book.
Remember, please report it if you have been a victim or fraud or a criminal has attempted to defraud you.
How? Action Fraud is the UK's national fraud and crime reporting centre. It provides a central point of contact about fraud and financially motivated internet crime.
You can report online on www.actionfraud.org.uk or you can call and speak to an advisor on 0300 123 2040.
But call us on 999 in an emergency, if a crime is in progress or about to be committed or call 101 in a non-emergency if the suspect is known/can be easily identified or if there is a vulnerable victim involved.