Remember, remember your neighbour this 5th of November
This time of year should be great fun but, for people who are elderly or live alone, it can be pretty frightening too. This is a 999 call we received last Hallowe'en from an older lady living alone Taunton*:
If you feel genuinely threated or scared, don't hesitate to call us on 999. But Hallowe'en and Bonfire Night are two of the busiest nights of the year for our call handlers. So, if a crime isn't in progress and no-one is in immediate danger, please think twice about calling us – someone with a genuine emergency might be waiting to get through. If it isn't an emergency, you can report it on our website.
Safety starts with hello
We can all play a part to keep our communities safe. If you have an elderly or vulnerable neighbour, why not pop around this week to check they're ok before the Bonfire Night celebrations start? Isolation and loneliness can increase vulnerability to crime, but simply saying 'hello' can make all the difference and help keep people safe.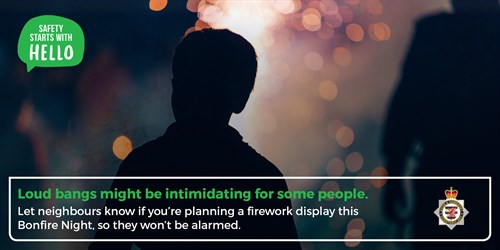 Things you can do to help your neighbours feel safe
Just say 'hello.'
Ask if they would like you to visit on Bonfire Night.
Don't let off fireworks after midnight on Bonfire Night. More information about firework legislation is available on the Gov.co.uk website.
Let neighbours know if you're planning a party or a fireworks display, so they won't be alarmed.
If you plan to celebrate on November 5, make sure your bonfire is a safe distance from any property, hedges or fences and that you have a water supply nearby in case something goes wrong.
Fireworks safety
Follow the instructions on each firework – read them in daylight or by torchlight, never by a naked flame.
Make suitable supports and launchers if you're setting off Catherine wheels or rockets on the night.
On the run-up to Bonfire Night, retailers should ensure they know the legislation around selling fireworks. It is illegal to sell these to anyone under 18.
It is an offence for anybody under the age of 18 to have a firework in a public place or for anyone to throw a firework.
We're wishing our community a safe and happy Bonfire Night.
*This call recording has been edited to omit any personal details.