Stalking and harassment ruins lives
Stalking and harassment can take many forms and anyone can become a victim.
It can have a devastating impact on people's lives and affects 1 in 6 women and 1 in 12 men at some point in their lives.
In cases where the victim isn't physically harmed, it can cause serious psychological distress, such as depression, anxiety and sleep disturbance.
While most people think stalking offences are committed by strangers, the majority of cases involve someone known to the victim – an ex-partner, a friend or an acquaintance.
This doesn't diminish the impact of the offending. It's still serious and it's still wrong.
Staying safe
There are a number of steps you can take if you think you're experiencing stalking:
Keep a record of what happened – create a log of what's happened including the date and time of      incident, the location, the details of what's happened, any evidence (e.g.  screenshots of messages) and how the incident has made you feel or  impacted on your daily life.
Record how the suspect looked and sounded - what they were wearing  and the make and number plate of any vehicle involved.
Keep copies of correspondence - retain copies of letters, text messages, emails and take screen shots of social media/other online messages.
Stay safe online – keeping your apps and any online profiles secure is vital. Turn off geo tagging and amend settings to ensure no one can find your location. 
Report offences to the police – don't wait for the situation to get worse. Please quote relevant      reference numbers if your case is ongoing.
What can the police to do help?
Research has shown that on average some victims of stalking experience more than 100 incidents before contacting the police.
We will take action when reports are made and we want to encourage more people to come forward. Our officers and staff are trained to assess risk and will support you throughout the investigation.
If you're a victim of stalking, our advice page has details on ways you can contact us, including our online reporting form. If you feel a person's behaviour is putting you in immediate danger, you should call 999 straight away.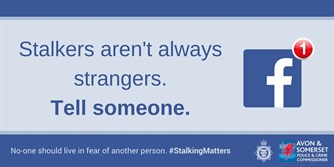 Help and support:
National Stalking Helpline ( www.stalkinghelpline.org) The National Stalking Helpline is an independent helpline which provides support and advocacy to victims of stalking and harassment.
Freephone: 0808 802 0300 (9:30am to 4.30pm weekdays, except Wednesday 1pm to 4.40pm) or Email: advice@stalkinghelpline.org
Victim Support: Free and confidential emotional support and practical advice to help victims cope and recover from crime.
Call: 0845 30 30 900
Stalking Awareness Week 2018

The Suzy Lamplugh Trust provides advice and information on topics including personal safety and stalking.
The charity organises the National Stalking Awareness Week, which this year runs from Monday 16 April until Friday 20 April.
It will be using the hashtag #ReportingStalking on social media and will focus this year on the work of the criminal justice system to support victims.
More information: https://www.suzylamplugh.org/nsaw