Stalking can happen within a relationship
Stalking isn't just something that happens to celebrities. It can happen to anyone, and can even happen within a relationship.
One in five women and one in ten men will be affected by stalking in their lifetime
According to the Crime Survey for England and Wales 4.6% of women and 2.7% of men aged 16-59 were victims in 2015/16 alone
Stalking can form part of a pattern of domestic abuse, often taking place once a relationship has ended.
Claire* was with *John for about 2 or 3 years in total. She said:
"It was a very on off relationship. He was cheating on me but I kept still going back to him because he talked me round. When I finally said right that's it, I've had enough, he sat me in his lounge for about two hours just talking at me telling why I would never meet anyone else, I would never meet anyone who would love me as much as he did, I would never have children, I would never be happy.
After the relationship ended for about 2 years he just kept turning up. He'd turn up when I was having a drink with my friends in my local pub. He sent me flowers on Valentine's Day to work anonymously, he never sent me flowers but I knew it was him and that night he text me asking if my flat was colourful. It made me shake, knowing that they were from him. I was getting so many text messages and phone calls from him that I stopped turning my phone off cos when I turned it on again I was being bombarded so I just had it on silent all the time."
Stalking and harassment can take many forms, from following you or hanging around your home or place of work, to bullying behaviour, sending abusive messages or unwanted gifts.
Stalking isn't always someone physically following or contacting you either, some people also experience cyber stalking. This can take the form of repeated unwanted messages, or spreading personal or false information online.
Whatever form the harassment takes it can have a devastating effect on every part of someone's life, from their relationships to mental health and even their ability to work, or go about their daily life.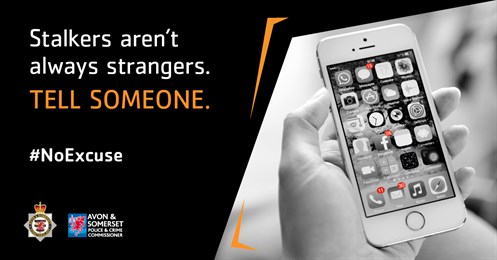 Claire continued: "I lost a lot of confidence. Before that I used to go out all over the place and was quite happy to go out on my own and just be by myself but I was always looking over my shoulder wondering if he was going to be there or not. I didn't go to places that I thought I might bump into him."
Taking control:
If you are a victim of stalking there are things you can do straight away to take control.
Tell your friends and family that it is happening and ask for their support
Report it to the Police – we will believe you and will help
Do not respond to the stalker in any way
Keeping a diary of events. Write down the date, time, location and details of what happens. It's also a good idea to include information about any other witnesses who can confirm what happened.
Keeping copies of letters, text messages and emails, and taking screenshots of other online messages (e.g. on Facebook).
Trying to get 'evidence' of any events that happen at your home – but be careful to do this discreetly. Waving a camera at someone who is harassing you is unlikely to help and could make things worse.
Contact a support group such as Paladin, they can offer help and guidance
 Support friends and family:
If someone you know is being stalked or harassed by someone they will need your support, here are some things you can do to help: 
Listen. If someone says they are being stalked, believe them.
Do not blame your friend for the crime.
Show support.
Do not respond to the stalker in any way.
Advise your friend to document everything. You can also document any incidences of stalking that you witness.
Do not give any information out about your friend, no matter what the stalker may say.
Offer to accompany your friend to places so she/he does not have to be alone.
Claire said: "The only advice I can think of giving to someone in the same position is to tell someone.  Speak with the police, they can help.  Speak with family and friends.  Don't try to pretend it isn't happening and don't keep thinking it will go away; it may not stop without police involvement."
Help is out there:
Stalking and harassment is a crime and we will take it seriously.  If you feel that you are in immediate danger call 999 otherwise you can contact us on 101. 
If you would like to talk to someone for advice or support you can contact the National Stalking Helpline on 0808 802 0300  or visit www.suzylamplugh.org or http://paladinservice.co.uk
  *Names have been changed.