Stamp Out Scams
Charity Crimestoppers is today launching the latest in a line of campaigns looking to raise awareness of scams targeting the elderly alongside Post Office Limited, with the latest launch in Bristol. The campaign aims to highlight the issue of elderly victims being scammed out of money by fraudsters using postal, telephone and online scams.
The lcampaign launched in Bristol on Tuesday 14th March at the Post Office branch in the Galleries shopping centre, with the support of Avon & Somerset Police, Age UK Bristol and South Gloucestershire Trading Standards. Promotional artwork will be displayed on an advan that will be driving around Bristol, Yate and Weston-super-Mare to promote the initiative over the next three days.
The campaign launches following a number of incidents in the Bristol area that have seen vulnerable people part with money, as a result of being targeted by scams. One local incident saw a customer attempt to send a money transfer of £200 on behalf of a friend because she had been told that if she did so, she would receive a share of a much larger sum of over £1 million. This of course, was a scam. Another incident saw a customer try to send a payment of almost £5,000 to Georgia after receiving a cold call from a scammer pretending to be from TalkTalk. The criminal stated the victim had issues with their router and advised them that cash had been mistakenly transferred to their bank account. The scammer had taken over the customer's computer and displayed a fake bank statement, showing the fake transfer. As a result, the victim sent money from their account to the scammer.    
DS Marc Milliner from Avon and Somerset Police said: "We are all at risk from fraud but criminals are devious and prey on the vulnerable, especially older people. We are focusing on identifying and supporting victims of fraud and urge people to look out for signs of a scam and report it as soon as possible. Our message is that 'it's ok to say no'."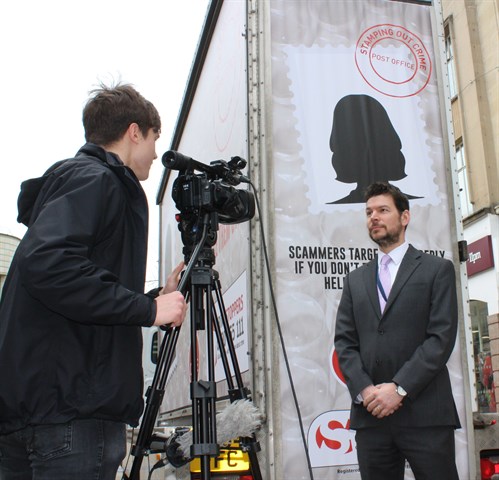 West Country Crimestoppers Chairman, Peter Anderson said: "Crimestoppers and Post Office have worked closely on trying to tackle the issue of scams against the elderly because we want to help prevent any individual going through such a distressing episode.
"We all have a responsibility to look after our community, so if you have information about this heartless crime we urge you to contact us anonymously through our 0800 555 111 phone line or Anonymous Online Form at www.crimestoppers-uk.org.
"We want to help protect local communities from crimes such as these, so please contact us, safe in the knowledge your identity will always be protected."
Mark Raymond, Head of Security Operations for Post Office, said: 'The Post Office is responsible for providing products and services right at the very heart of the community and as a result we can play a key role in keeping it safe. Being a victim of a scam can cause significant financial and emotional harm so we are pleased to be working in partnership with both Crimestoppers and Avon & Somerset Police to raise awareness of and prevent such fraudulent activity.'
South Gloucestershire Council's Environment and Community Services Committee Chair Cllr Heather Goddard said: "These scams specifically target the elderly, and the criminals behind them often completely bombard the victims with repeated telephone calls, letters and emails. This type of activity can not only be devastating for the victims financially, it can also very often have severe negative impacts on their health and wellbeing. We would like to encourage all friends, carers and relatives of potentially vulnerable individuals to be vigilant and report any concerns to trading standards or Crimestoppers so action can be taken."
If you have any information relating to fraudsters using postal, telephone or online scams to target victims in the Bristol area, please contact Crimestoppers anonymously on 0800 555 111 or through our anonymous online form at www.crimestoppers-uk.org or call 999 in an emergency.
Follow the campaign on Twitter with the hashtag #StampOutScams. For more information, visit crimestoppers-uk.org/stampoutscams
Pictured above with officers from the Bristol City centre team are Peter Anderson (Crimestoppers West Country Chair), Mark Raymond (Post Office Head of Security Operations) and DS Marc Milliner.