Supporting Stop Adult Abuse Week
This week (13-19 June) is Stop Adult Abuse week. Stop Adult Abuse Week is a local initiative that started in 2014 when a number of Local Safeguarding Adult Board Communications Groups in the South West decided to join together to run a week to focus attention on Safeguarding. It was developed regionally to raise awareness around the time of World Elder Abuse Awareness Day, which tends to fall in the middle of June.

Around 4 to 6% of elderly people have experienced some form of maltreatment at home. Elder maltreatment can lead to serious physical injuries and long-term psychological consequences. The incidence of abuse towards older people is predicted to increase as many countries are experiencing rapidly ageing populations.
The global population of people aged 60 years and older will more than double, from 542 million in 1995 to about 1.2 billion in 2025. Elder abuse is a global social issue which affects the health and human rights of millions of older persons around the world, and an issue which deserves the attention of the international community.
PCC Sue Mountstevens said: "Any form of abuse is completely unacceptable and it fills me with sadness to think that this cruelty happens to members of our elderly community.  If you think an elderly friend, neighbour or relative is being subjected to such abhorrent behaviour I would encourage you to act now and report it."
We have linked with the five local authority safeguarding adult boards to highlight what they are doing in your area to help prevent elder abuse. There will be an international focus on Wednesday to celebrate the United Nations World Elder Abuse Awareness Day.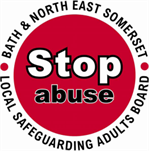 Today we are focusing on the campaign by Bath and North East Somerset – Their theme this year is prevention and they are calling on the local community, organisations and groups to help promote the prevention of adult abuse. B&NES have produced and delivered a resource pack to encourage local services to undertake events to promote awareness for their service users staff teas and the public.
A key way of people preventing adult abuse is by understanding what abuse is and recognising how you can challenge behaviour that leads to abuse and to understand how to refer someone for safeguarding support early on to ensure the adult is kept safe.
B&NES Local Safeguarding Adults Board (LSAB) are holding a workshop to discuss the theme of prevention with a focus on self-neglect. The LSAB will launch the new Self Neglect Policy and will highlight the changes to the new Multi-agency safeguarding procedure. If you are a provider or group who would benefit from attending the workshops on Wednesday 15 June in Keynsham, please contact Dami Howard to book your place dami_howard@bathnes.gov.uk or by phone 01225 396350.