Thinking of using your phone while driving? #DontRiskIt
Police forces across the South West are working together to crack down on people using their mobile phones whilst driving.
A week-long campaign will begin today and will span across the region including Wiltshire Police, Avon and Somerset Constabulary and Gloucestershire Constabulary.
It comes as figures from the RAC show that the number of motorists who illegally use mobile phones while at the wheel is rising.
Of 1,714 motorists surveyed 31% said they used a handheld phone behind the wheel. That compares with 8% in 2014. The number of drivers who said they sent a message or posted on social media rose from 7% to 19%, while 14% said they had taken a photograph or video while driving.
Department for Transport figures show that a driver impaired or distracted by their phone was a contributory factor in 492 accidents in Britain in 2014, including 21 that were fatal and 84 classed as serious.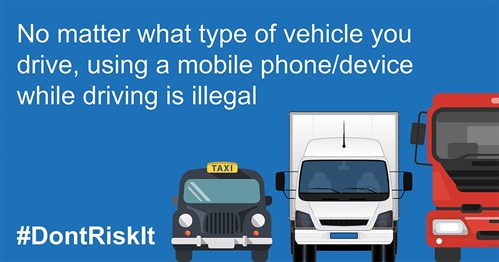 Roads Policing Inspector Frazer Davey said: "I am often asked 'what is legal?' or 'can I use hands-free safely?'.
"The best advice I can offer, is the advice I have given to my 17-year old son, who is learning to drive; Driving is difficult enough without adding in other distractions. When you're behind the wheel, forget about who may be texting you, or what your friends may be putting on Facebook.
"Focus all of your concentration and attention on your driving to keep you safe, your friends and family safe and other people on the road safe."
Avon and Somerset Police and Crime Commissioner Sue Mountstevens said: "Too many people still think it is acceptable to use their mobile phones while driving, or allow themselves to be easily distracted when behind the wheel of a vehicle.
"When someone is killed or seriously injured by a distracted driver, it's important to recognise that not only do these collisions have a life-long impact on the lives of victims, but also on their friends and families.
"Road safety and drivers using mobiles phones are the most common topics raised with me in my mailbag, and I welcome any initiatives that aim to educate drivers and make our roads a safer place for all who use them."
The government has said that drivers caught using handheld mobile phones are likely to face much tougher penalties in the future. New rules, expected to come in in 2017, will see fines and points doubling.
Alongside the campaign, police across the South West will be carrying out a series of proactive operations to catch those using their phones behind the wheel.
It is being led by the head of roads policing in the region, ACC Jon Stratford: "This week, officers will be out and about across the region, stopping people who are using their mobiles whilst driving.
"We will be explaining to them the dangers of this and prosecuting where appropriate."
Anyone wishing to report someone for driving while on a mobile phone, should call us on 999 in an emergency or 101 if not.