#UseYourHead - we're supporting an end to female genital mutilation
We're proud to be involved in and support Integrate Bristol's ground breaking new music video to campaign for the end of female genital mutilation (FGM) and promote gender equality.
Officers from Nailsea and Southmead police stations, as well as Redland the police horse, joined the young people of Integrate Bristol, members of the public, politicians and even Mayor George Ferguson to take part in the video.
The music video was produced by Zed Productions and the song was co-written by Rosina Buck and Naela Rose, in collaboration with the young people of Integrate Bristol.
The release of the new music video 'Use Your Head' on 26th June launched the charity's 2014 campaign for education on gender-based violence, including female genital mutilation (FGM), to be introduced in all UK schools.
What is FGM?
FGM stands for female genital mutilation. Female genital mutilation is the illegal practise of female circumcision or cutting involving the partial or total removal of the external female genital organs.
FGM is a form of child abuse that happens in some African, Asian and Middle Eastern communities in the UK.
There is no medical reason for FGM and it can have serious health and psychological consequences, both at the time of the procedure and well into adulthood.
To find out more about female genital mutilation, the law and our priorities around FGM, visit our Female Genital Mutilation (FGM) web page.
Why are we supporting #UseYourHead?
As a police force, we are committed to protecting victims from this form of abuse and to enforcing the law against people involved in carrying out female genital mutilation.
But we are also involved in promoting education around issues of violence against women and children, helping to increase public awareness and improving our relationships with communities where women and girls are at risk of female genital mutilation.
Detective Chief Inspector Leanne Pook works in the Public Protection Unit and fully supports Integrate Bristol's campaign. She said, "FGM is a deeply embedded cultural practice and girls are often subjected to FGM in the belief that it is in their best interests. Clearly this is not the case and we are working closely with other statutory agencies and charities to both investigate criminal offences of FGM but also to inform and educate young people and affected communities about the consequences of FGM and other gender based violence.
"While we will always investigate any reports of FGM, our overriding priority will always be to prevent girls and women being subjected to it in the first place.
"Use Your Head is all about mainstreaming FGM and other gender violence and inequality within the school curriculum so that young people know the facts and consequences of these practices and can feel empowered to disassociate themselves from them."
Report it
If you feel you are at risk, suffering from the effects of FGM, suspect a child may be at risk or have any information at all relating to suspected acts of FGM, we would prefer to speak to you on the phone (by calling us on 101) or in person.
However, if contacting us online is the safest way for you to get in touch, you can complete our secure online reporting form.
We take reports of Female Genital Mutilation very seriously and will work to protect and support the victim fully.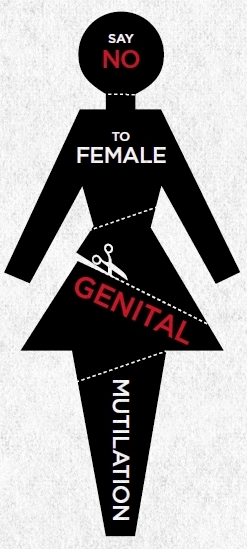 Important: If you feel that you or a child are in immediate danger, call 999 immediately.
The case for a national action plan
On Thursday 3rd July, the Home Affairs Select Committee released a report entitled 'Female genital mutilation: the case for a national action plan' calling for immediate implementation and specific steps to respond to the growing crisis of female genital mutilation (FGM).
The report includes evidence submitted by us at Avon and Somerset Constabulary, as well as our Police and Crime Commissioner Sue Mountstevens, who was very pleased to see the Committee highlighting the issues we raised.
PCC Sue Mountstevens said, "I welcome the Committee's recognition that we have a problem in the identification and then referral of FGM in the UK. I am encouraged by the Committee's recommendations around improving multi-agency referrals and its recognition that existing requirements for reporting child abuse simply are not being applied to cases of FGM."
Read the full statement from Sue Mountstevens. 
Read the Home Affairs Select Committee report and summary.