Volunteers Week 2018: Meet Mervé, a cadet leader
"Hi, I'm Mervé and I currently volunteer as a cadet leader in Portishead. I have been involved with the cadets for 5 months now and my role entails taking part in community engagement events, supporting the cadets in workshops or 1:1 sessions, delivering workshops where possible and assisting the head cadet leader.
"I got involved because I previously volunteered for the Black Police Association (BPA) and I enjoyed engaging with members of public through job and advice fairs and in particular I enjoyed engaging with young people and offering support and advice in terms of career development.
"I enjoy the cadet leader role because I like engaging with young people, supporting and seeing them grow on a professional and personal basis and being part of their cadet journey. I also enjoy working with our fantastic team of cadet leaders.
"It really is wonderful being part of a supportive and approachable team and having a sense of self-satisfaction knowing you're making a difference to young people's lives.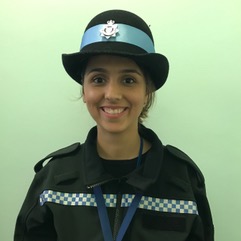 "In terms of skills it has improved, I do feel like it has developed my inter-personal skills and my presentational skills. I was able to run an introduction to a workshop and that has given me confidence to run further sessions and develop on my presentation and facilitation skills.
"I would absolutely encourage other people to become a cadet leader. I believe everyone has something to offer and I find that in our team everyone has their own speciality whether that may be running an athletics session or a first aid session. I would also encourage this because it helps to make a positive impact on young people's lives and help them build their confidence and pursue their career aspirations whether that's joining the Police or doing something else.
"The ideal cadet leader would be someone who's approachable, has good listening skills, leadership skills and can be supportive and encouraging to the cadets.
"I would highly recommend the cadet scheme to young people because they learn valuable life skills. In addition, in particularly if they are interested in joining the force this is a fantastic route for them to learn more about Avon & Somerset Police Constabulary as an organisation but also enhances knowledge about the different areas of policing."
We are currently recruiting for Cadet Leaders and Cadet Unit Administration Volunteers across the force. If you are interested, find out more here:  https://www.avonandsomerset.police.uk/volunteers