Working with the Brandon Trust
As part of our disability hate crime awareness campaign we have linked with the Brandon Trust for an insight into how they help victims of hate crime and share some of their experiences.
Brandon Trust is a registered UK award-winning charity providing individualised support and services to approximately 1,600 adults, young people and children with learning disabilities or autism across Southern England. It has centres across the Avon and Somerset area offering individual support to enable people with learning disabilities. They form part of the Bristol Hate Crime Service which was launched in 2013.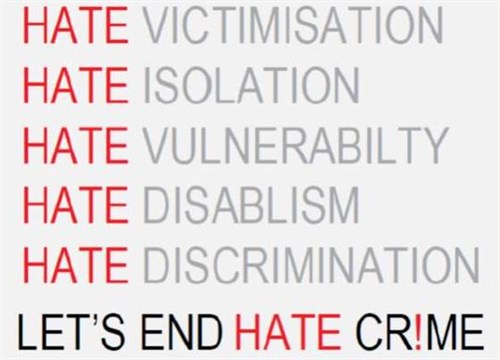 Sarah Howard, a Project Leader for The Brandon Trust:
"Both of these incidents demonstrate the importance of raising awareness and understanding how to report hate crimes, especially by those who work closely with disabled people. We offer free workshops for professionals, disabled people and anyone who works closely with disabled people but funding is needed to expand this part of the service."
The Brandon Trust have helped many disabled people across the force area and are sharing some of those stories to help others identify disability hate crime and that they can get help.
Tammy, a wheelchair user who also has a hearing impairment and a long term health condition, was shouted at by a bus driver whilst boarding with her daughter. When she asked him to drive nearer the pavement to lower the ramp he became aggressive. He repeatedly swore at her, physically threatened her and called her a deaf cow when she asked for something to be repeated.
Tammy and her daughter were reduced to tears but called the police to report the incident. The officer assigned to the agency driver who has now been interviewed and cautioned. The case was aided by Tammy's daughter recording part of the incident on her mobile phone.
They recently worked with Ben who was a victim of disability hate crime.
Ben has a learning disability and lives independently in the community. He was approached by a man at a bus stop who claimed to know him from school. He asked for Ben's address and started to visit him regularly. The man claimed to have a sick child and no money to treat him so Ben gave him money each week thinking it was a loan. Ben's supervisor eventually saw that this could be a hate crime after attending an awareness event and urged Ben to report to our service.
I then worked with the police and the council who were Ben's landlord.   However, things got worse when the perp called again; when Ben refused to give money, he was threatened.  Unfortunately the CCTV footage was not retrieved and the perp was not identified.  However, other steps were put in place, tenants sent reminder letters about security issues; police and the Housing officer also did joint visits to tenants in the tower block.
Ben now knows how to report a hate crime and is unlikely to fall prey to this kind of crime again.
Get support and report
If you are a victim of a hate crime or mate crime (befriending to exploit) like this then please report it to the police. Hate incidents - whether they are verbal, physical or on social media – should be reported to the police. Improved recording of these crimes will enable a better understanding and help identify and improve services for victims in communities where hate crimes are evident.
Anyone with information about a hate incident is asked to report it either by calling 999 in an emergency or 101 in a non-emergency or in person at a police station. If you feel you can speak to us, we would prefer to speak to you on the phone or in person, however if contacting us online is the safest way for you to get in touch, you can complete our online reporting form. If you don't want to contact us directly please use an independent agency or report it online on the Report It website

Who else can help you?
The Bristol Hate Crime Service was launched in 2013 and is made of four local organisations: SARI (Stand Against Racism and Inequality), LGBT Bristol (Lesbian, Gay, Bisexual and Trans Communities), Brandon Trust (working with disabled people) and Bristol Mind (for better mental health).
All of these organisations are there to help and can be contacted on 0800 171 2272. By calling SARI to report a hate crime, a worker from one of the above organisations will be allocated to the case. They can help wherever you live in Avon and Somerset.